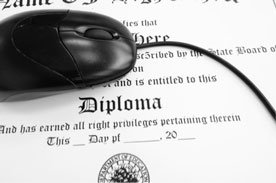 High school graduates earn just under $400,000 more over the course of their lives than non-graduates, according to statistics from the U.S. Bureau of Labor Statistics¹. However, the traditional high school experience is not an ideal fit for every student. Read on to learn five smart reasons why an online high school degree can help you achieve your goals in a setting that suits your individual needs.
1. The Power of Self-Pacing
Not all students learn at the same pace. Instead of expecting all students to progress at the same rate, online degree programs encourage students to progress at the pace that best suits their individual needs. The concept is simple: when you've mastered a subject, move on. Need extra time for a challenging concept? That's fine too. Online programs allow you to devote your time and attention exactly where and when it's needed.
2. Community Connection
Many people mistakenly believe that online degree programs are solitary work. This couldn't be further from the truth. Penn Foster High School HS Diploma Program offers 24/7 support from a thriving community of knowledgeable faculty and peer learners.
3. Unparalleled Flexibility
From choosing your study hours to deciding whether to use online or printed textbooks, online high school degree programs deliver unparalleled flexibility. The ability to create your own schedule and deadlines while customizing your curriculum to meet your personal interests and career goals through a mix of concentrations and electives makes online high school degrees a terrific options for everyone from homeschoolers to adult learners to college-bound student athletes. Cutting edge services like Penn Foster's mobile study planner app help keep you on track.
4. Amazing Affordability
Today's online high school degree programs offer a variety of flexible payment options. Tuition costs are low -- even for sought after nationally accredited programs like Penn Foster High School --and can be paid up front all at once or via a zero percent interest payment plan.
5. Increase Your Employability
A high school diploma is a significant factor when it comes to getting a job in today's competitive workplace. Employers are looking for students with the skills and education to make a contribution, and graduates of top-quality, accredited high school degree programs fit the bill. Penn Foster High School also provides valuable career resources to help strategically position yourself for optimal success.
A high school degree may be all that's standing between you and your goals. Penn Foster High School can help you bridge this gap, conquer your high school degree, and take giant leap toward the military, college or job of your choice.
¹ https://www.bls.gov/emp/ep_chart_001.htm
Statistics found in the United States Department of Labor Occupational Outlook Handbook are based on national data, so job growth in your area may be different, and post-graduation salary depends on educational background, level of experience, and geographic area of the country.