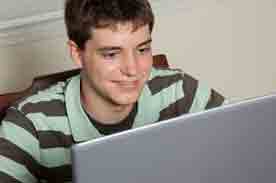 For some, it's easiest to concentrate in the morning. The dogs aren't yet barking, lawnmowers are idle, and traffic is light. It's an ideal time to recite Shakespeare or outline the impact of the Industrial Revolution without distraction. It's also a great time to set goals for the day or exercise to boost energy and focus.
Others come alive at night, feeling more fully awake once the sun goes down. These folks may spend the earlier hours of the day taking care of menial tasks like housework or running errands, setting the stage for an uninterrupted period of productivity.
These preferences can make a big difference when it comes to your child's homeschool education. To get the most out of the experience, you'll need to understand when your student is most likely to soak up information – here's a guide to creating your ideal schedule.
Do What Works for Your Family
Every child and family is unique. Just like adults, some students thrive in the afternoon and evening hours and don't cope well with mornings. Others may need a stimulating morning activity to set the tone for the rest of the day. As long as everyone is on the same page, there's nothing wrong with starting school at noon or even later. After all, homeschooling is meant to be flexible and tailored to the student.
Depending on your family's commitments, starting school later in the day can reduce stress. For example, it leaves the morning wide open to get doctor's appointments, housework, grocery shopping, and other tasks out of the way. There's no rush to finish a class in fear of being late.
Don't stress over trying to meet 'normal' or "socially acceptable" schedules. Parents and children who force themselves to wake up earlier than their bodies dictate are more likely to be moody, impatient, and unfocused throughout the day. Simply let the schedule fall into place. If that means breakfast at 6 a.m. and math at 7 a.m., wonderful. If a 1 p.m. starting time suits your family, then run with it.
Consider Online Homeschooling¹
Whether your child is an early bird or a night owl, online homeschooling through Penn Foster High School caters to their schedule and yours. Classes taught by regionally and nationally accredited private high school teachers provide the knowledge, tools, and support kids need to reach their potential. An online high school program also gives parents more flexibility and peace of mind – morning, afternoon, and evening.
¹ Homeschooling Requirements: Penn Foster High School students who are of compulsory age must also comply with home school requirements dictated by their school district, or those students will be considered truant. You need to check the requirements of your district to ensure the Penn Foster High School Program meets the district's home school requirements.
Sources
https://simplehomeschool.net/why-we-dont-start-school/
https://www.forbes.com/pictures/gglg45gfd/benefits-of-early-risers/