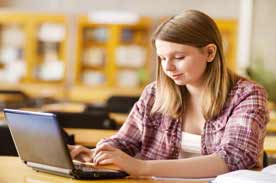 Technology plays a much greater role in our lives than it did 20 years ago. Online degree programs offer a convenient alternative to four-year universities, and many people now work from home to earn a living. Online high school programs give students, teachers, and parents more options. For students struggling with traditional high school life, distance learning can remove distractions, adapt to their needs, and pave the way for success. Below are five reasons to consider distance learning over traditional high school.
1. Relocations
Parents with demanding jobs might need to relocate frequently. This can interfere with students' curriculum and make concentration difficult. Distance learning enables students to stay on track from virtually anywhere in the world.
2. Boredom
A traditional high school program may limit the potential of gifted students. E-learning programs can match students with classes that challenge and motivate. There are no guidelines that bind students to a class based on age. In fact, many students between the ages of 10 and 12 now enjoy taking high school-level courses online.
3. Disability
Students with impaired vision or attention deficit hyperactivity disorder (ADHD) can benefit greatly from an online learning interface. For example, a teacher can read text out loud and describe images to a student. A bilingual teacher can provide one-on-one language sessions to a non-English speaking student. Structured online courses can help students with ADHD avoid the distractions of a physical classroom. A student with cerebral palsy or a speech impediment can participate in class discussions via online chatrooms or instant messaging.
4. Scheduling
Traditional high school schedules offer little room for flexibility. Students may struggle to balance academics with extracurricular activities and/or work. With a distance learning program, parents, teachers, and students can work together to set a schedule that fits everyone. A flexible schedule not only improves focus, it gives students more opportunities to learn, grow, and interact with others outside of class. It also allows students with medical needs to attend checkups without missing class time.
5. Bullying
Bullying can significantly hamper a student's ability to learn and focus. According to the Center for Disease Control, bullying can lead to depression, anxiety, trouble sleeping, and behavioral problems that can last into adulthood. In fact, one out of every 10 students drops out or changes schools to escape it. With distance learning, students can interact with one another without the influence of age, gender, race, disability, or physical appearance. This creates an unbiased, stress-free learning environment.
If online learning sounds like an ideal fit for your high school student, contact Penn Foster High School today to learn more about our regionally and nationally accredited online High School diploma program.
Sources
https://www.prnewswire.com/news-releases/2014-k12-inc-poll-shows-students-choosing-online-school-to-escape-bullying-112148085.html
https://www.thoughtco.com/is-online-school-right-for-my-teen-109844