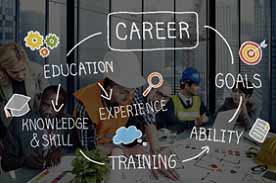 More than one-third of all college students are over the age of 25, according to the National Student Clearinghouse. Many of these students juggle school with jobs and family responsibilities. If you are like these adult learners, you know how difficult it can be to create and maintain balance between school and the rest of your busy life. Here are a few tips for creating a healthy balance as an adult learner and accomplish your goals without losing your mind.
1. Identify your academic goals
What do you hope to accomplish by returning to school? Maybe you want to qualify for a job with better pay or even switch career fields. Or maybe you want to pick up a new hobby, improve a life skill, or simply learn something interesting. Whatever your goals, identifying them early on will allow you to form a plan for your education and decide how much time and effort you want to invest in being an adult learner.
2. Create a path to success
As an adult learner, you may be tasked with balancing schoolwork with a job, bills, rent, and family responsibilities. Therefore, you'll need to plan up front to make sure you're carving out time for all areas of your life. Evaluate your workload to determine how much time you must dedicate to your classes each week to move closer to your goals. Be sure to factor in time spent preparing for class, studying, and seeking out extra help as needed.
3. Stay focused
When life presents challenges, it's easy to lose sight of your academic and career goals. Give yourself a daily reminder of why you decided to pursue this dream and use that as motivation when times get tough. In addition, remember to review your course selection every few months to make sure your studies are leading you in the right direction.
4. Make learning a lifestyle
Establish a daily and weekly routine that allows you enough time to complete schoolwork, study, go to work and fulfill other obligations. And embrace learning as a lifelong quest that continues even after you accomplish your goal – creating and maintaining a life balance as an adult learner is easier and more rewarding over the course of your lifetime.
With all you have to balance, going back to earn an education as an adult won't be easy. But the reward will be new skills you can use in your career or new knowledge that will benefit you throughout your life. If you're ready for the challenge, contact Penn Foster College today to learn more