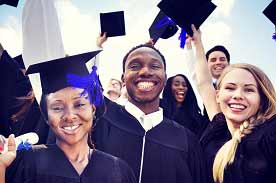 Do you need to earn your high school diploma but dread the thought of finishing your education because you think it will be difficult?
If you are among the people who dropped out of high school and think it is too difficult to go back, prepare yourself for some great news. Finishing your high school diploma may be easier than you think. Here are five reasons why:
1. Variety of available programs
These days, you have plenty of programs to choose from as you work toward your high school diploma. Find a program that fits your unique needs, and if there is a specific field you would like to enter, consider a high school program with a concentration in that field.
2. Convenience
Online classes are faster and the short commute makes learning a breeze. Turning on a computer and studying from the convenience of your own home is much easier than driving long distances to a school and sitting in a classroom for endless hours.
3. Set your own pace
Online classes make it easy to develop a customized study plan that allows you to work at a pace that is comfortable for you. With Penn Foster High School you won't need to worry about a teacher moving too quickly, so you can spend as much time on a lesson as you need. If you find that you have free time available to study, use it to move ahead in the program.
4. Affordability
Finishing your high school diploma is affordable, which means you won't have to take on large amounts of debt to earn your education. Penn Foster offers custom payment plans, and we will gladly work with you to determine the best payment options for your budget.
5. Community support
From your friends and family to the school you attend, you'll have a wide range of people supporting you as you earn your education. Use the Student Community to get support from staff, instructors, students and alumni, and don't be afraid to ask for help when you need it.
It may seem daunting, but earning your high school diploma is a great way to finish what you've started and prepare for new career possibilities. If you're ready to take the next step in your life, contact Penn Foster High School today to learn more about our accredited high school diploma program.