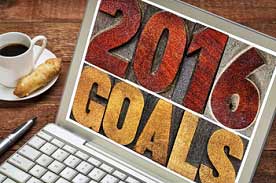 It's that time of the year again – the time when people reassess their lives and set new goals for the next 12 months. If you're ready to make 2016 your best year ever, what better way than to pursue a higher education and earn a degree? It may seem like a daunting task, but don't let your fears and doubts stop you. Here are three tips for getting the most out of your experience and earning that degree you've always wanted.
1. Find ways to save on tuition
Financial uncertainty is one of the top reasons adults avoid returning to school. If you're currently working, ask your employer if they offer full or partial tuition reimbursement. Penn Foster also offers custom payment options plans with 0% interest to help you find room for your education within your budget.
2. Choose a program that fits your schedule
Time constraints can make it hard to enroll in a traditional degree program, but there a plenty of options available when it comes to furthering your education. If you are looking to learn a new skill or brush up on your knowledge of a particular subject and don't necessarily need a college degree, try a career diploma or career certificate program. If your long term career plans require that you have a college degree, budget your time so that you can dedicate a set amount of time each day towards your studies.
3. Establish a studying routine
Between your job, family duties, and other personal commitments, you may find it difficult to focus on school. Rework your daily schedule so you have a healthy block of time you can devote to studying and completing your assignments. Let your family, friends, and employer know about your scheduling needs. Once you've established a schedule, stick to it until studying becomes a habit. It may be hard at first, but you'll quickly get into the new swing of things. Don't forget to take breaks, eat a balanced diet, and exercise regularly – these habits can boost your brain power and help you stay focused.
Penn Foster offers flexible online degree programs for adults returning to school. Whether you want to earn your high school diploma or take your education even further with an Associate degree, Bachelor's degree, or undergraduate certificate program, we're here to help you achieve your goals.