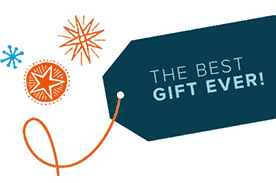 We know how much just one contribution to your tuition can mean. This week, Patrick Holmes from our Student CARE Team writes about how you can ask for the Gift of Education this Holiday Season!
"Learning is a life-long benefit. It's a journey that never needs to end, either. During the holidays, friends and families want to shower you with affection and appreciation. Sometimes it comes down to knowing what to ask for. It's Okay to be direct in knowing what you want, and often times communicating that to your loved ones is something they would appreciate.
Penn Foster makes it easy during the holidays for students to benefit from loved ones generosity. We encourage our students to have those close to them participate in the benefit of an education. Have them contribute to your education by sharing tuition payments.
You're making strides and sacrifices to make progress in your life's goals. There may be times you get overwhelmed, but that doesn't mean you need to lose focus. There is a goal and end game in reach. You're submitting exams, crafting excellence in your assignments, and reading and absorbing learning materials. You may need to lean on your loved ones for a little support – and that's okay!
It's okay to ask for help here and there. Get into the spirit to offer up a gift. This season, ask for that bit of support towards your tuition. There's people in your circle who are willing to help. When most people know that you are working towards a goal, they want to be included and help out. This holiday season, they can do that by gifting tuition payments towards your account!
Setting goals, starts with having a plan and patience. You'll also need to take baby steps. Break down the whole of a goal to smaller pieces. That's also how the tuition payments work – broken down into manageable pieces. By having a monthly tuition payment gifted, that's one less thing to do on your list."