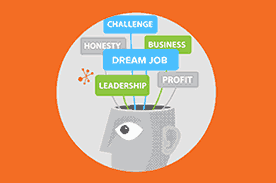 Welcome to Career-Focused Fridays! This weekly series is dedicated to helping you prepare for any post-graduation challenges so that you can focus on what is important: pursuing a career you love with the confidence to take the first steps towards success in your chosen field.
In the last installment of Career-Focused Fridays, we looked at a few different types of job interview questions and ways you can answer those questions to sound confident, knowledgeable, and personable. However, we know having all the right answers might not be enough to keep pre-interview nerves at bay. Here are some tips for staying calm and not letting nerves sabotage your chances at landing your dream job during your next interview.
Don't speak too fast. If nerves are preventing you from speaking at a comfortable (and comprehensible) pace, take slow, deep breaths while you're waiting for your interview. Take deep breaths through your nose to lower your heart rate and prevent the urge to rush your delivery when speaking to a potential employer.
Plan ahead. Don't leave anything until the last minute when it comes to preparing for an interview. Think about what you will wear, the route you will take to the interview, and even how you will greet the person interviewing you well ahead of time. There's no way to be too prepared for a job interview.
Plan on arriving early. Be sure to allow yourself plenty of travel time when travelling to the interview – which means mapping your travel route, checking traffic reports, and planning alternate routes just to be safe. Arriving late to an interview can be a huge stressor, and the last you want is to be unnecessarily frazzled when you are called in for your interview. By arriving early, you are giving yourself time to relax, gather your thoughts, and focus.
Hold a practice interview. You might not know exactly what questions you will be asked during an interview, but you can still rehearse for your big day. Write down a few questions that you specifically hope you won't be asked, then ask a friend to ask you the questions as if they were the interviewer. If you aren't able to hold a practice interview, practice talking in front of a mirror and pay attention to your posture, eye contact, and expressions. Nerves often come from feeling unsure about what the interview experience will be like, so practicing beforehand can help make the process feel less strange when it's time for your real interview.
Be yourself. Job interviews are all about you, so don't try to be someone other than who you really are at your interview! Let your personality shine, answer questions as honestly as possible, and go with your gut if you're stumped by a particular question.
Confidence is key in job interviews, and eliminating unnecessary nervousness will go a long way in leaving a good impression on your interviewer. Learn more about how Penn Foster can help you feel confident taking the next step in your personal or professional life, and check back every week for more career tips on the Student Life Blog!
Sources
14 Tips for Staying Calm During a Job Interview | Forbes
10 Weird Ways to Beat Interview Nerves | The Guardian