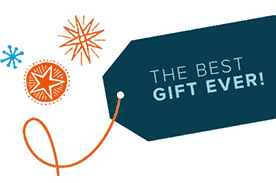 If you are serious about furthering your education, this holiday season is the perfect time to take the first steps toward pursuing your academic goals. This December, put your personal and professional goals first by giving yourself the gift you really want – the gift of education! Penn Foster is here to make furthering your education as convenient and painless as possible so that you can earn your high school diploma, career certificate or diploma, or college degree on your own time, at your own pace, and at a price that fits within your budget. Here are three reasons why the gift of education should be at the top of your list this holiday season:
1. It's more than just enrollment. When you enroll in Penn Foster, consider your first payment a commitment to accomplishing your goals and an investment in your future. You're not just enrolling to earn a diploma – you're doing it because you know furthering your education can help take you places.
2. It's practical. The gift of education is more than just a holiday sweater or a fancy pair of socks – it's something that will provide lasting value, and can pave the way for new opportunities down the road. It might not seem like a flashy gift to yourself, but furthering your education is about reaping the long-term benefits!
3. Your friends and family can help. Once you enroll, your friends and family can make donations towards your tuition – which can be a great gift to add to your wish list if you enroll before the holidays! Once you enroll, let your loved ones know that they can help you pay for school by calling 877-827-3128 with your student ID number ready.
When it comes to taking steps towards improving your professional opportunities and quality of life, why wait? From now until December 30th, give yourself the gift of education by enrolling online or calling Penn Foster at 1-800-475-4410 and speaking with an Admissions Specialist. The sooner you enroll, the sooner you can graduate!