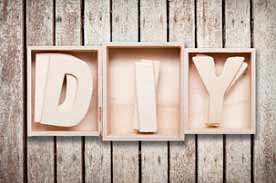 Why buy expensive furniture when you could make your own? DIY furniture projects can add style, comfort, and creativity to your home without draining your wallet. The possibilities are endless. Here are a few ideas to inspire you to get building.
Wooden Pallet Furniture
Wooden pallets are used across various industries to hold and transport heavy objects. That makes them ideal to repurpose into sturdy furniture pieces. Wood pallets make excellent coffee tables that can complement any decor. They are also easy to paint, stain, or coat with a glossy finish. Pallets also make solid bases for sofas and love seats. Want an earthy feel in your home? Turn a pallet into a dresser or simple storage compartment. How about a bookshelf? Perhaps a few lawn chairs? Think outside the box and you will find dozens, even hundreds of ways to reuse wooden pallets.
Suitcase Furniture
Is your closet filled with suitcases that haven't been used in years? If so, why not give them new life as furniture? With the proper supports and cushion materials, you can transform suitcases into sofas, chairs, dog beds, tables, and just about anything else that takes an 'L' shape. It's a great way to liven up your home's decor and help protect the environment.
Blackboard Furniture
Kids love to doodle on just about everything they come across. Instead of stifling their creativity, encourage it by building furniture that doubles as a canvas. Blackboard coffee tables, floor tiles, and other pieces lets kids draw, erase, and draw again without the need for extensive cleanup. Adding a blackboard surface to existing furniture is easy and cost-effective. Turn scrap furniture into an artistic playground for your kids, or build one from scratch to suit your kids' height and drawing preferences.
Net Furniture
From the jungle gym to your living room, a few pieces of rope or mesh can substitute just about any chair or sofa base. Nets make excellent backings for recliners, reading chairs, and couches. Use rope or mesh to create stylish hanging storage compartments, baskets, and more. High-quality materials can last for many years with little to no maintenance.
Cardboard Furniture
Though it may sound tacky, cardboard can be used to create everything from stool covers to lampshades. If you have lots of empty cardboard boxes lying around, cut them apart and glue, sew, or staple them together to make pencil holders, paper towel racks, and more. It doesn't get cheaper or easier than this.
If you like the thought of making your own furniture, Penn Foster's Furniture and Cabinet Maker Program can teach you the hands-on skills you need to get started – including basic and advanced joinery, layout techniques, kitchen planning and construction, wooden furniture restoration, and more.