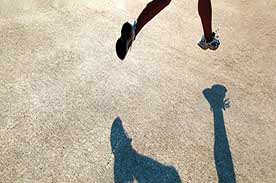 Guest post by Dr. Sherry Pietrzykoski, Senior Instructor, Counseling and Human Development
Part 1 of a Six Part Series
So, how do we face stress? There are a lot of methods. This first week, let's discuss exercise. Exercise is often held as a great stress reliever. According to the Mayo Clinic¹ in 2014, exercise increases the neurotransmitters endorphins, which are necessary for your brain to feel good.
Have you ever heard of "getting in a zone?" Sometimes, runners refer to this as "running high". Whether it is running, rowing, swimming, or riding a bike, many of those who exercise often remark that they "zone out" and can achieve a state of meditation while exercising. Their mind relaxes and as they concentrate on their body movement, all of the "stuff" that has been rushing through their brains is gone.
Take for example, a thirty-something male that's into running, snowboarding, biking, and does all kinds of exercising. He is only thirty and has already had both knees operated on, had shoulder surgery, and surgery on his wrist. Yet he continues to mountain bike until he can no longer move. When questioned why he does it, he replies "It is the only time I don't think about how rotten my life is. I am out in nature, and most importantly, totally in control."
What do you think of this idea? Is it the concept of controlling the bike, snowboard or whatever instrument of torture you have chosen? Is it that you are controlling your body? Or is it that you are pushing yourself to the point of exhaustion where you are just too tired to care about any other issues that may have been there? How do you cope with stress?
¹ Mayo Clinic Healthy Lifestyle Stress Management. (2014). Exercise and stress: Get moving to manage stress. Retrieved from here.