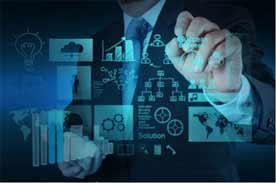 If you'd like to pursue an online business management degree, there's no time like now to get started. A degree in business management is a flexible option that can prepare you for a wide range of jobs, both in the business world and in other fields.
What a degree in business management will teach you
One of the great things about a degree in business management is that it creates so many career options. For example, you could choose to focus on human resources and learn to manage and hire employees. Or you could start your own business from the ground up. No matter what direction you want to go, you'll be ready after completing courses in business strategy, Information Technology, accounting, business operations, and marketing techniques. Skills in these areas are useful in any business setting, from a start-up to a large corporation.
More benefits of a bachelor's degree in business management
When you earn a degree in business management, you'll gain knowledge that will help you throughout your career – even if that career takes you beyond the business world. Coursework in your business management degree program will help you gain skills in leadership, communication, and problem solving, all of which can be used in any industry.
How online learning fits today's students
For many students, life can get in the way of earning an education. But don't let your busy schedule prevent you from earning the career you want – online education is changing what's possible for students like you.
With online learning, you can build a schedule that works for your life. You'll be able to work around your current job, family responsibilities, and any other demands on your time. You can also save time and money since you won't have to drive to and from your courses. Finally, you'll be able to connect with dedicated professors and fellow students instantly online.
With a Business Management Associate Degree or a Business Management Bachelor's Degree from Penn Foster College, you can change your life and earn the career you want. Ready to get started? Contact Penn Foster College today to learn more.