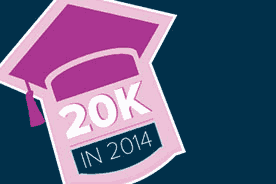 Late last year, we announced our goal of graduating an unprecedented 20,000 high school students in 2014. This stretch goal at times seemed like an impossible goal, given we "only" graduated a still impressive 13,000 high school students in 2013. We are pleased to announce that over 20,000 students graduated from Penn Foster High School last year, a nearly 54% increase year over year.
Our graduating class is incredibly diverse, composed of students from all across America and as well overseas. They ranged in age from 17 to 50+ years of age, proving that it is never too late to go back to school. Over half of our graduates completed their coursework independently in our self-paced, fully online High School program. Some of those graduates participated in our first ever Virtual Graduation ceremony which you can read more about here. Many of our high school graduates also came to us through our partnerships with organizations like Job Corps, YouthBuild and over 15 Career and Technical colleges. These partners offer our High School Completion program in a blended learning environment, combining online and classroom instruction.
Read more about our online High School programs.
Congratulations to all of our 2014 Penn Foster High School graduates!