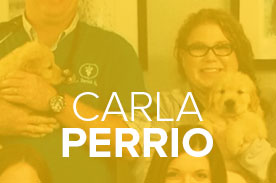 Hello everyone! My name is Carla and I am a first year student ambassador. I am currently halfway through my third semester of the veterinary technology program. I have been working in the animal field since 2000 and have a B.S. degree in Animal Production from Tarleton State University.
I started working in the vet field in 2003 and started out as a kennel tech. I moved my way up and have worked in just about every position in the vet office. I was able to do everything in the states I lived and didn't give much thought to becoming certified. That all changed in 2012 when my husband received orders to Virginia. I found out you have to be licensed I. Virginia so I started doing some research and Penn Foster looked like the best fit for me. I was a little scared about going back to school, and doing everything online. I have to say that it was the best decision I have ever made. I have never felt alone on my journey with Penn Foster.
I am now working full time at a small animal clinic and could not imagine doing anything else. When I am not working or studying, I love spending time with my husband, two children, dog and cat. I live a very busy and full life.
I am so thankful to have been given the opportunity to be a student ambassador. Please let me know if there is anything I can help you with this year. I am looking forward to making new friends and learning more about our school together. I am on the community as much as possible and also on Facebook.