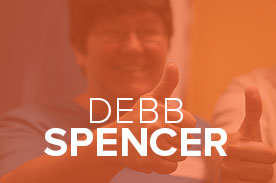 Our student ambassadors represent Penn Foster to prospective students and to present students as mentors and role models. They support our school's mission of Changing the World through Knowledge and Skill and embrace Penn Foster's core values. In the Meet the Ambassador series, we'll introduce you to the 2015 Student Ambassadors that you may interact with on our Penn Foster Community website and learn more about their interests. This week, we introduce Debb Spencer.
My name is Debb Spencer. I was raised a country girl, and have 4 sisters and 2 brothers. Growing up in a large family has it's benefits, as love and laughter among us is plentiful. I live in Three Springs, PA, a small community 1/2 hour from Raystown Lake. I've been married for 28 years, and we have 5 children between us.
I love life, and try to fill it to the fullest.
One of the first things I remember learning about when beginning my studies in 2008 with Penn Foster was Time Management. I've learned to juggle a busy schedule between family activities, studies, a full-time job, owning a craft shop, working on computers, helping out with paperwork in my husband's automotive service station, and volunteering in our small community.
I've also learned that to succeed in life, you must reach beyond your "Comfort Zone".
I love "Anything Technology" and started my first program with Penn Foster in 2008, by enrolling in the Computer Information Systems Associates Degree Program. I graduated from that program in October 2012. I'm now currently enrolled in the PC Maintenance & Technology Associates Degree Program as of November 2012. I think I've become a Penn Foster "Life-Time Learner".
I'm honored to be a part of the 2015 Penn Foster 2015 Student Ambassador group, and look forward to working with each and every one of you.
Woot! Woot! to helping Penn Foster staff and students be the best they can be!!