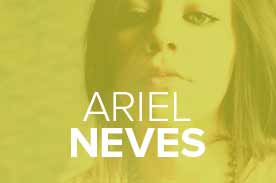 Our student ambassadors represent Penn Foster to prospective students and to present students as mentors and role models. They support our school's mission of Changing the World through Knowledge and Skill and embrace Penn Foster's core values. In the Meet the Ambassador series, we'll introduce you to the 2015 Student Ambassadors that you may interact with on our Penn Foster Community website and learn more about their interests. This week, we introduce Ariel Neves.
Wowzers! I am honored, humbled, and grateful to finally be a part of the Student Ambassador Team! Yes that's right, this will be my first year as an Ambassador. Some classmates thought I already had the title, ha-ha! My goal and duty this year is to continue mentoring my peers, inspiring and encouraging others, helping my friends grow, and making a difference in our school, my community, and within myself.
Name, Age, Location, Health, Family
Anyways, my name is Ariel. My last name spells seven backwards. (The number 7 is indeed my favorite number.) I LOVE nicknames, so feel free to give me any. I wouldn't mind if someone called me "Seven-Eleven."
I am the youngest out of this year's Ambassador group, being 21. I turn 22 on May 17th. My whole life I have lived in the same house located in Clovis/Fresno, Central California.
Since 12th grade, I have developed many health issues and they worsened as I got older. I hope to overcome most of them and finally be able to gain communication skills!
I have an older sister and two older brothers; I am the youngest (and the most spoiled). My second oldest brother is a United States Marine. My eldest brother was also a Marine for about 22 years, but he decided to retire this month. My current family pets are Missy (black Tabby cat), Molly (Yorkie dog), and Bacon (American Eskimo dog).
School, Work
I have been a Vet Tech student at Penn Foster since April 2012 and I am nearing the end of my 2nd semester. This was the first college program I have taken after graduating public high school in 2011. When I'm further along in my program or whenever I graduate, I plan on taking a few more courses with Penn Foster. And my ultimate goal is to become a Life Long Learner!
On the Community, I manage and assist several clubs and social groups. I enjoy being involved with different hobbies, making new friends, and helping others make new friends and connections. In the past I put together vet tech study groups and intend to get back to doing that in upcoming months. One thing I excel at is this Student Community. If anyone needs help or needs a tour of the Community, send me a message.
Unlike the other ambassadors, I currently do not work. In fact, I've never had a job nor did any volunteering. One reason being was my family provided for me, so I didn't need to work. Another reason being I was too busy with co-curricular activities such as concert band, color guard, winter guard, cheerleading, and marching band. Perhaps by the end of this year I can begin volunteering to gain experience in my profession and land a job!
Fun Facts (or boring facts, matter of an opinion)
As I mentioned before, I love nicknames. If we become friends, you will be named. Some of mine: Hippo, Mermaid, Airs.
Running is my favorite exercise.
Favorite music genres: Punk, 80's, Grunge, Gangsta Rap, Indie, Metal, Reggae/Jamaican, and New Age (love the sounds of Celtic/Fantasy like from Lord of the Rings). Oh and I love sad breakup songs.
I'm passionate about anti-bullying, health awareness, and animal rights.
The last few months of 2014 I decided to take up motivational speaking. I'm not big on public speaking (yet), but I cannot wait to share my positive words on social media.
Anime has become a new interest of mine. (It's Japanese animated shows.)
Favorite bands: Angels & Airwaves, Blink-182, Avenged Sevenfold, Matchbox Twenty, Eminem, Coldplay.
Big time introvert!
This could be a given...but hippos are my absolute favorite animal! I'm also obsessed with mermaids—after all, I am a Princess.
Few hobbies: cleaning (I love to organize and remove dirt from things), hiding and running from bees (terrible phobia), junk collecting (I'm a low-key hoarder), dancing, making digital art (although I'm not very good at it), and Netflix-ing and Hulu-ing.
No...I do not wear colored eye contacts. My eyes are naturally green.
Desired pet: a ferret! They're illegal in California though. Need to pack my bags to another state!
Connect with her on our Student Community today!