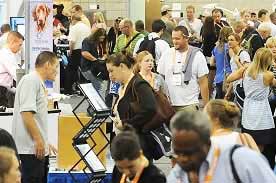 This past week, I was able to enjoy the experiences of the AVMA's Veterinary Conference in Boston! The venue was fantastic! So many choices of great classes and speakers to choose from. There are many tracks offered from Companion Animal Medicine to Food Animal/Equine to Professional Development, Veterinary Technology and various hands-on workshops.
Early on as a student and beginning technician, I was overwhelmed by big conferences. The questions and scenarios that ran through my mind were:Will I get lost in the conference center? Will I be able to choose a class that is right for me? Will I stick out in the crowd because I am new and have no idea what I am doing? And what about the exhibit halls-where do I go, how do I approach the vendors? I know sounds crazy but going from a small town and smaller conferences, the conventions were intimidating to me.
Since those first few conventions, I have come a long way in my approach. The best thing is to get acquainted with the conference and what is going to be there. One new option that is recently available are applications that you can download ahead of time once you register. You can review the various topics by days and times. I enjoy stepping out of my comfort zone and attending a few tracks of topics that I do not have much experience with. It's amazing what valuable information you can learn that way!
The next thing to do ahead of time is to sign up for the hands-on workshops. These can fill up fast so if there is something that I really want to attend, I will register as soon as they are offered. These labs are great ways to meet people within your field and to learn something new. These can range from hands-on suturing to lab skills such as reading blood smears and urinalysis, etc.
Once you arrive at the conference, go to the conference center pick up your badge and materials. Start going over the materials and get comfortable with the layout of the conference center. There are events that go along with the conference. Attend them! At the events, you will be able to mingle with other professionals in your field and relax. It's a great way to meet people. The keynote speakers are great. In Boston, our keynote speaker was Chris Gardner. He wrote the book "The Pursuit of Happyness" which was made into a movie starring Will Smith. He was fantastic and gave a powerful speech about self-empowerment and overcoming obstacles!
My last note is make sure you keep track of what classes you attended. You will need this to ensure that you obtain the continuing education (CE) credits offered for each to maintain your license. Each conference will instruct you how to get the certificate of attendance.Make sure to file it and keep with your records for when you renew your license.
Learn more about our author, Vicki McLain, a full time instructor at Penn Foster since April 2012 in our Student Community.