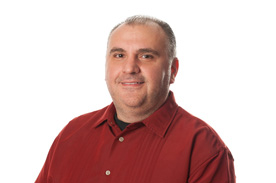 In the second part of our Meet a Penn Foster Employee, we introduce you to John Zelenski. John is Penn Foster's VA Certifying Official and works closely with our Military students. He is also an accomplished writer and more.
PFB: Hi John! Thanks for interviewing with us. Can you start off by giving us a little background about yourself?
John Zelenski: I was born and raised in Scranton, PA and continue to call Northeastern, PA my home. While in high school, I took a job to help my parents who were struggling financially. Little did I know that I would spend the next thirteen years with Hills Department Stores (later to be sold Ames) where I worked my way up from the warehouse to the management level within the company. As the retail landscape was changing in favor of the super-center stores, I saw the writing on the wall, so to speak, and accepted a customer service position with Penn Foster. One of the best decisions I have made in regards to career choices.
PFB: Tell us something that not many people know about you.
JZ: I used to play bass guitar in a band and LOVE heavy metal music. I have also been told I'm somewhat of a non-alcoholic mixologist. My most delicious blend is a splash of orange juice, a select brand of iced-tea, combined with a certain brand of ginger-ale. Hey, I can't reveal all of my secrets!
PFB: Secrets are secrets for a reason! If we were to visit your home, what titles or genres would we see on your bookshelf?
JZ: You'd definitely find many translations of the Bible and numerous works by famous Christian apologists. You'd also find numerous works by Frank Peretti and Ted Dekker, and rows of books of supernatural and paranormal thrillers. Of course, you would also find on the top shelf my favorite work of English literature, Wuthering Heights by Emily Bronte.
PFB: Oh man, after hearing that, I'm embarrassed to tell you what's on my bookshelf, so I'll just keep it to myself. When did you know you wanted to become a writer?
JZ: I don't think there was a defining moment when a conscious decision was made on my part. Writing has always been a part of my life in some form as with writing lyrics for songs or writing plays for my church youth group. I don't know if one becomes a writer as much as writing becomes one with an individual? Therefore, I believe I am becoming a writer.
PFB: Ah quite philosophical and poetic. Where do you find the inspiration to write?
JZ: I think it was something that was born in me as a child. I'd love to listen to stories read to me and find the flaws and strengths of each character. I'd love to breakdown the story and reassemble the cast in my mind to my own version of how I imagined the story should have been told. I think that love of storytelling eventually filtered down through my fingertips into a pencil and paper, then a keyboard, and ultimately into published works.
PFB: De-contructed, re-imagined, then re-constructed? That's very effective. Where can we find some of your published works?
JZ: My two novels, Walker's Vale and The Journal of Ezekiel Walker, are available through Amazon, B&N, Books-a-Million and most other online retailers. (Don't forget the smaller guys too!) Of course, folks can order signed copies directly from me via my website www.johnjzelenski.com.
PFB: For those aspiring writers out there, what words of advice can you give them?
JZ: My number one piece of advice is to not be discouraged! The craft of writing itself I believe is an art form that gets better the more you practice it. If you believe in yourself and your writing, others will eventually see the confidence flowing from your pages and notice. As one song says, "…time is all the luck you need."
PFB: I bet the Freelance Writer Career Diploma, English and Writing, and high school diploma students would benefit from that advice. John, I appreciate the time today. It's great to see the talent of my co-workers shine through like this. And did I hear rumors that they're turning your books into a feature film?
JZ: It was my pleasure and the rumors are true. Be on the lookout for announcements of a full-length feature film in the coming months.
John leads the Penn Foster team that supports the
Penn Foster Military Group
on our Student Community. Click over to learn more!