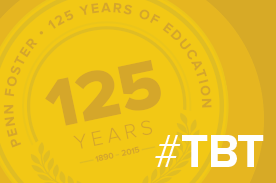 As we celebrate our 125th Anniversary here at Penn Foster, it gives me an opportunity to reflect on my personal history with the school, and how my job almost did not happen.
You see, it all started when I graduated from Lackawanna College and was rearranging my plans for the future. Having recently earned my degree in Paralegal Studies I was anxious to work in a firm, however, I was not able to find full time employment. My bills were starting to accumulate and I needed a good job. It was a cold winter that year in 1995. The Internet was at its infancy at that time, and jobs were found through the newspaper. Since I was not having luck finding employment in my field, I had many skills to draw upon from my past as I was always looking for new experiences. My experience fluctuated in the medical field, insurance industry, as well as hospitality and even construction. Yet, looking through the classifieds this particular day I was not finding any interesting jobs until I came upon the ad for Penn Foster. The job description mentioned an opportunity to work in Education. (Since this is something I had not experienced before, perhaps I could get some new skills added to my resume!)
I clearly remember the day of my interview. There was snow storm hitting Scranton. I glanced through my living room window to find my car was plowed in the parking spot. Not having enough time to make alternate plans, I decided to call and cancel my appointment. I dialed the company and the line was busy. A few moments later a friend called asking if I wanted to escape the boredom of the winter day by going to see a movie. Since I was already dressed for my appointment, and the theater was on the way, I decided to go ahead and follow through-- I had nothing to lose. Little did I know that this decision would set the course for a big change in my future!
As I entered the building, I saw a large operation full of busy workers and felt a positive energy. The Admissions Center at the time was buzzing with activity. Workers were busy at their stations taking calls and I was greeted with smiles from one of the managers. I was asked "why do I want to work here?" I stated, that I was "looking for a position which allowed me to be able to serve people." I was called that afternoon with a job offer which I happily accepted!
Fast forward to present time: 20 Years Later, I am extremely proud to be working for such a wonderful company that is so dedicated to their purpose and their students. I have seen great transformations during the years as the school has developed, changed, and improved. New programs have since been added every year, each one more exciting than the next. New technology also brought amazing changes to our company and we have been able to support our students even better than before. I love meeting new people and being a part of their journey with Penn Foster. My past experiences have given me the ability to help those who are seeking their own career changes. I love how my job allows me to connect with so many amazing students globally, which is a wonderful experience I may have never had if I did not decide to go out in the storm during that cold winter day. Looking back, I can see how a job that "almost did not happen" was actually a perfect set of circumstances that led me to a rewarding career!