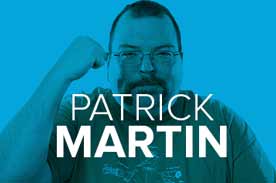 In a recent interview with Daniel Marotta, Penn Foster's Social Media Manager, Patrick Martin discuss not only his role within Penn Foster High School team but also his interests outside of work.
DM: What is you role here at Penn Foster? How do you support our students?
PM: I am a Teachers' Assistant in the High School Program. My role is to answer student calls, e-mails, Community posts, etc. I support the students every day in a variety of ways. Sometimes, it is in math and other times it may be English, but I always welcome student questions.
DM: That is a positive attitude towards servicing students. Are you local to Scranton? Did you grow up around here or have family in the area?
PM: I was born and raised in Scranton, PA. Most of my family is here. My oldest brother and my younger sister both moved to Arizona.
DM: I understand you've read over 300 textbooks...for fun. How did you that come to be? Is it in one particular subject or across multiple disciplines?
PM: It is across many subject areas. I love non-fiction books. I love knowledge. I constantly read. One day, during high school, I decided to read my biology textbook cover to cover. Since then, I have just continued to read textbooks. It has become such a "thing" that my friends will buy me textbooks at flea markets and yard sales. I enjoy reading older textbooks and then the newest version of the same subject, to see how our knowledge has expanded. Knowledge truly is a gateway to understanding the whole universe and how it works.
DM: You also host a weekly trivia night, is that right? Does the textbook material make it into your trivia questions?
PM: I do host a local trivia night – on Wednesdays – at the Keys in downtown Scranton. I use all the knowledge available to me. Sometimes it is my textbook knowledge. Sometimes it is just pop culture knowledge. I write the whole thing myself, so I need to constantly read – to improve my current knowledge.
DM: You are a man of many talents. Not only are you an avid textbook reader and host trivia nights, but you also are a founding member of a sketch comedy group. How did you get started? What kind of improv do you perform?
PM: I am a founding member of "Here We Are In Spain." We are a comedy group based in Scranton, PA. We do both improv (Whose Line is it Anyway?) and sketches (Saturday Night Live). We have been around for almost 10 years. We have a regular monthly show at the AFA Gallery in Scranton; every second Saturday of the month. Throughout the month we have various "gigs" we do in Scranton but we also travel to anywhere people want us! We are available to be hired for any kind of "gig." (Find Patrick's comedy group on Facebook.)
The name, "Here We Are In Spain," derives from the original teacher of improv comedy – Del Close. He used to tell his students, do not say where you are – SHOW where you are. For instance, you would not say, "Here we are in Spain." SHOW that you are in Spain.