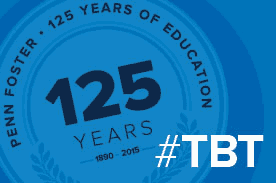 Post written by Christopher Poremba, Penn Foster's Inventory Forecasting and Procurement Manager
When I realized that Penn Foster will be turning 125 years old this year I started to take a look back at the almost 11 years I have been here. The time that I have spent here has been the ride of a lifetime. It was a ride that I never expected, but looking back it was probably the best decision I made.
This is my story.
It was the middle of April 2004 and I was coming up on 1 year out of college and still did not find a career. I was working at JCPenney as a Loss Prevention Officer. This was my job for the last six years; it was a fun job, but not something I wanted to do with the rest of my life. I had told myself shortly after I graduated that if I did not find a job within a year that I was going to enter the police academy. Helping others and being involved in the community was always something I enjoyed so I decided that would be the way to go.
As we now know I never did become a police officer. In the middle of April 2004 I received a phone call from an old friend from high school. He told me that Penn Foster was hiring and that I should put my application in. He had been working here for a few years and that it was a great place to work for and he believed I would be a good fit.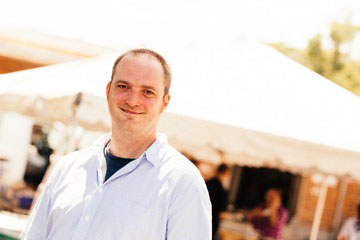 Well as you could guess I applied and I started out as the Assistant Inventory Analyst. I remember being so excited that first day here, I mean it was my first job after graduating and it took me almost a year, but I found something. I walked in that day and remember what a whirlwind it was. Not just the paperwork that you need to fill out, but meeting all these new people, from Executives to Facilities staff. Everyone I was introduced to was so excited about being here and they were all so happy to have me on board. I remember going home that day and thinking wow that was interesting. Who could be so happy to come to work? How could people be so glad to have me on board? Little did I know that I would quickly learn why.
I'll jump ahead almost 11 years, I won't tie up your time with all the details, but what I will tell you is what I learned about Penn Foster and why I am still here. I learned that this place is not only a business it's an institution. Businesses come and go, institutions last forever. Why do institutions last forever? That is an easy one, because they serve a greater purpose then just making a profit. Penn Foster serves an amazing purpose. We are here to make peoples dreams come true. We have such a long history of doing that too. From the start in a local newspaper with random questions, to match book applications (My Grandfather filled one of those out I learned), to Sally Struthers commercials, to where we are now, we always had the one purpose. The reason we are still here is because of that greater purpose. You, our students are our greater purpose.
I had a dream of helping people and serving my community. The great thing is I found that here at Penn Foster. I come to work everyday knowing that no matter what obstacles I face I need to over come them so that I can make our students dreams come true. Everyone that I have worked with through the years has taught me that. Some have moved on some are still here. I carry a little bit of each of them with me each day. Everyone that worked here for the last 125 years are still the reason why our students can make their dreams come true.
Now I know why everyone was so happy that first day back in May of 2004. Here is to another 125 years of making dreams come true!