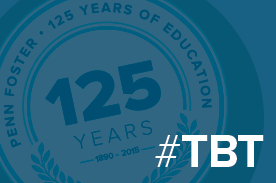 2015 is an exciting year for Penn Foster. We celebrate 125 years in education and honor a history that has shaped Penn Foster (formerly known as International Correspondence Schools) into the profound educational institution it is today.
More than 20,000 students graduated from Penn Foster with their high school diplomas in 2014, and enrollments increase as we provide nontraditional students with an onramp to not only high school completion, but higher education. The Clayton Christensen Institute for Disruptive Innovation highlights these academic successes and features Penn Foster as an online learning leader offering a blended "disruptive instructional model" for flexible, self-paced learning.
Among the countless stories of student success and recognition as a growing educational frontrunner, Penn Foster reflects on its past of academic achievements and extols the man who founded our school ― Thomas J. Foster.
Thomas J. Foster was a community advocate and academic activist whose conviction and progressive thinking helped develop the future of modern-day vocational education and online distance learning.
Community Advocate
Thomas J. Foster, a newspaper publisher and editor of the Mining Herald in Shenandoah, Pa., took a vested interest in the local community and anthracite industry during the late 1880s. Before running the Mining Herald, Foster was a school instructor, storekeeper and printer. But it was his unique position at the newspaper that gave him the opportunity to serve as an influential advocate for his rural coal mining community.
Foster and the community were shaken by a tragic series of coal mining accidents, illnesses and fatalities. These tragedies affected Foster on a personal level when his close friend went missing in the mine and became one of the many casualties. Foster was enraged at how many lives were lost because miners weren't properly trained and lacked adequate knowledge. He became an outspoken proponent for miner safety training programs and supported the Mine Safety Act of 1885, a law enforcing mining workers to pass a mine safety test.
Academic Activist
The law intended to improve unsafe working conditions, but it backfired. Uneducated miners couldn't pass the test. In response, Foster printed sample problems and copies of former competency exams in a column of his newspaper to help men better prepare for the test. The editor also encouraged miners to submit questions and problems to the Herald directly for firsthand answers and solutions by the staff. Miners could print lessons to learn at home and mail back answers to be checked. The column, later renamed the Correspondence Column, became the first initiative in vocational education by mail and correspondence (and eventually it evolved into online distance education as we know it today).
Education Pioneer
Interest in and demand for mining education became so great, Foster expanded his offerings and pioneered a burgeoning educational institution. He moved on to provide specialized instructional materials, start the International Correspondence School (ICS) in 1890 and offer the first correspondence coal mining course in 1891. As president of ICS and a correspondence teacher in mechanical engineering, Foster established a school with more than 250 course offerings (including electrical engineering, electricity, architecture, plumbing and more) and enrolled nearly one million students in the early 1900s.
Foster retired as president in 1916, but his legacy lived on throughout the 20th century. ICS widened its academic scope and offered more training programs for nontraditional students. In 2003, ICS transitioned into a modern online distance learning provider and adopted the name Penn Foster two years later.
Penn Foster Leader
Foster was a newspaper editor whose solution to help a community in distress became a landmark in nontraditional education. He responded to a crisis and created an opportunity to help educate and train miners. He went on to become a leader in education and developed a new way of learning.
Foster and ICS epitomize what Penn Foster strives to help its students achieve. We believe in turning a past of unfortunate circumstances into a positive opportunity to do something better. It's our mission to provide nontraditional students with an opportunity to change the course of their future — just as Thomas J. Foster did for distance education 125 years ago.