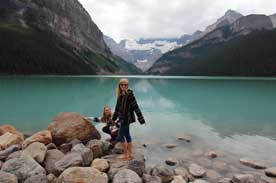 Guest Post by Dr. Sherry Pietrzykoski, Senior Instructor, Counseling and Human Development
Part 6 of a 6 part series on Coping with Stress
In last week's blog I mentioned how music can help you tap the deeply imbedded subconscious part of our minds – the primordial part of our being. According to Wolfe and Flora, "Encounters with nearby nature help alleviate mental fatigue by relaxing and restoring the mind."¹ Meanwhile Atler noted that, "Nature restores mental functioning in the same way that food and water restore bodies... There's something mystical and, you might say, unscientific about this claim, but its heart actually rests in what psychologists call attention restoration theory, or ART. According to ART, urban environments are draining because they force us to direct our attention to specific tasks (e.g., avoiding the onslaught of traffic) and grab our attention dynamically, compelling us to 'look here!' before telling us to instead 'look over there!'"²
If you are not fortunate enough to have an office with a window, or that window doesn't have a view you may have chosen to hang a calendar with a nature scene in your cubicle. I have. In addition to the calendar, I have a poster of a vineyard, posters of beach scenes, a miniature water feature, and several houseplants to brighten the grey cubicle walls that I am forced to dwell in for eight hours a day.
Without these images, green living (and sometimes flowering) beauties, and sound of nature provided by my waterfall, I could not survive the stress of this existence. I may not have a room with a view but I have created one! When I take my lunch, I get outside and walk to the nearest spot of grass and sit under the oak trees that on the side of the building. Since this is a smoke-free campus there are no annoying cigarette smokers to walk through so as I go out the doors I can start breathing clean recycled fresh air. Even better; there is usually a squirrel or two buzzing around and some birds chirping to amuse and soothe me. As I drive home, I try my hardest to not use the air conditioner or heater so I can leave the windows open. Then, when I am not sitting in traffic and smelling some other car's fumes, I can feel and smell the air coming into the windows. The other night when I left work, I pulled over to take pictures of the sunset (it was glorious) and posted to my Facebook wall before I continued on my way home a much happier and relaxed person.
I grew up on a farm; I was always outside. In addition, the generation I come from is not the TV generation. We played outside from dawn to dusk; we had recess every day at school, there were no two hour delays, no snow days, and we went outside for recess and lunch break even in the snow. Up until a few years ago I used to hike and ski. It has only been the last few years that arthritis has hampered much of my physical activity. However, now I enjoy nature in a much more subtle way.
I appreciate lying on a beach (under an umbrella) and I love watching the sunrise and set. I can sit on my porch for hours in the shade a particularly beautiful elm and watch hummingbirds or any of the fine feathered visitors that come to the feeders hanging from the trees in my back yard. I have a small pond that we have fish in; the robins use a flat stone we placed on the edge to walk into the pond to take baths. My husband and I sit there every morning on the weekends and watch the activity of the birds, the dragonflies and the squirrels that visit our backyard pond and stream. As the seasons change, we watch the trees put on a show as they change color and softly drop their leaves in what will eventually become riotous swirls as the fall winds pick up. Finally, there is something to be said about watching the snow fall and drift (when you don't have to drive) in your back yard. The squirrels give another kind of enjoyment as they scamper back and forth to the feeder and then climb the trees back to their nests while the beautifully colored winter birds make a stunning contrast against the newly fallen snow.
So, do you feel the serene call of nature?
¹ Wolfe, K. and Flora, K. (2010, December, 26). Green cities: Good health: Stress relief. http://depts.washington.edu/hhwb/Thm_Mental.html
² Atler, A. (2013, March, 29). How nature rests our minds and bodies. https://www.theatlantic.com/health/archive/2013/03/how-nature-resets-our-minds-and-bodies/274455/
Photo Credit: "Lake Louise Alberta Canada" by Flickr: davebloggs007's Photostream is licensed under Creative Commons Legal Code