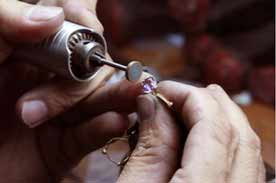 If you are an artist with a jewelry design business, Etsy is an invaluable resource for growing your customer base. Founded in 2005, Etsy is a unique website designed for artists and craftspeople to sell their work. Although it started small, Etsy has grown tremendously in the last few years, becoming one of the most popular sites on the Internet for handmade goods.
Whether you're new to the industry or running an already established business, it's easy to get started on Etsy. Here's an overview of the site and what it can do for your business.
Promote your jewelry design business
Owning a business is a challenging endeavor, but Etsy is a powerful tool for a jewelry designer. The site was set up to be visually appealing to shoppers, using beautiful, eye-catching images to attract customers. However, it also takes advantage of search engine optimization (SEO) techniques to make it easy for shoppers to find what they are looking for.
Become a jewelry top seller
You don't have to be an experienced businessperson to use Etsy. Selling on Etsy is easy. The site is user-friendly, with clear instructions and plenty of help in the forums if you have questions. Jewelry is one of the top-selling categories on Etsy, from inexpensive baubles for less than $10 to high-end jewelry that costs more than $500 per piece.
Forget high fees
You don't need to invest a lot of money to use Etsy. Fees are nominal for listing items; there is a commission deducted when an item is sold. However, Etsy is an excellent way to build brand awareness for your jewelry designs. You can sell one piece at a time to learn what customers prefer and how to post the jewelry online for sale. Many jewelry designers start their online businesses on Etsy, some choosing to build their own websites later on. However, as a way to drive new business, many artists keep at least a few items in their Etsy shops.
Keys to Etsy success
One of the biggest keys for success on Etsy is to take excellent pictures of your jewelry. Etsy allows you to upload several photos showing your piece for each listing. You should get a good camera, figure out which lighting is the best for your type of jewelry, and take the time to show off your pieces at their best.
Once you're ready to list your jewelry, fill in as many details as you can, using strong keywords to ensure your pieces will be searchable. After listing, consider sharing product pages with friends via social media channels to promote it to a wider audience.
With Etsy, you have access to a giant customer base that otherwise might never have seen your jewelry designs. And with Penn Foster Career School's Jewelry Design and Repair certificate program, you can further refine your skills and turn your love of jewelry making into a career you'll love. Get started today!