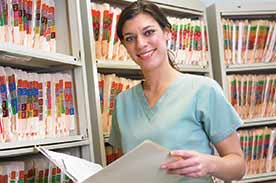 As the Affordable Care Act comes into effect and the Baby Boomer generation continues to age, health care providers will find an increasing need for knowledgeable, dedicated team members to help deliver care to patients. As a medical billing and coding professional, you can play a key role on a medical team, working in an administrative role to help keep patient data accurate and safe.
To become an effective employee in this growing field, you'll need to stay current on developments in the industry. Here's a look at some of the latest trends:
The Current Procedural Terminology code set
The American Medical Association's Current Procedural Terminology code set contains 335 new changes that must be implemented next year, and coders must learn how to apply them now. The ever-changing code trend does not show signs of slowing down, because new codes are going to be introduced in 2015 as well. For example, the CPT Editorial Panel created 35 new codes for the radiology and radiation oncology fields, and this includes the tendency to combine two separate codes into one.
The new "bundling" trend
The American Medical Association's Relativity Assessment Workshop requested that the editorial panel pair several codes. For example, if two procedures with two different codes are often performed together, the editorial panel may create a "code pair" in what is called a "bundle."
New radiology and radiation oncology codes
Radiology practices in particular must be prepared to examine the codes they are currently using and to determine how the new codes are going to affect their practices. For example, the Relativity Assessment Workshop requested that the editorial panel create two new codes for breast ultrasounds. Specifically, they needed one code for the complete breast ultrasound and another code for a limited breast ultrasound. Previously, billers used the code 76645 to describe the unilateral or bilateral breast ultrasound. Because so many new codes have been added, billers and coders in the radiology field will have a larger range of choices in the future.
The new ICD-10 system
If a medical facility or billing entity is covered by the Health Insurance Portability and Accountability Act, also known as HIPAA, it must make the transition to the ICD-10 system by October 1, 2015. The following groups are affected by the deadline:
Healthcare providers
Payers
Software vendors
Clearinghouses
Third-party billing services
With all of these new coding rules, those who wish to enter the field need a quality education to prepare for the future of medicine. At Penn Foster Career School, you can earn your medical billing and coding career diploma in just seven months from an accredited program that includes training in the ICD-10 codes. The best part is that you can take your courses online in the privacy of your own home when it's convenient for you. Contact us today for more information.