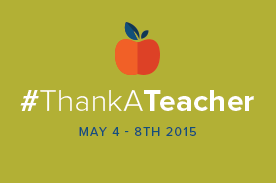 Team:
This week we celebrate Teacher Appreciation week by giving high praise to our Education group, including Faculty, Exam Control Staff, Registrar, High School Counselors, Transcript Evaluators and the Administrative Support team.
In 2015 we've brought the term "Outcomes" into the forefront of the vernacular across many of the conversations in the company as a primary factor that drives our actions and investment priorities. This Outcomes focus reinforces why we are all here and collectively what we are trying to achieve for our student body. Students depend on us to obtain the skills necessary to be successful in either their next academic step or to be career ready for their chosen field, and the most objective measure of value is their academic progression and outcomes.
The Education Team is often where the rubber meets the road for improving student outcomes. Your collective efforts on projects that positively affect academic progression and success along with individual/personal conversations that go "beyond the transaction" push our students to greater heights and change their lives. It also gives them the confidence to persevere when inevitable headwinds appear.
I want to THANK YOU for all of your work that is self-evident in your roles, but equally important, all that goes on without fanfare day in and day out, as that often is the real difference maker. Finally, I also want to affirm the collaboration across all departments as you help triage a myriad of issues daily. It does indeed take a village to deliver the value we promise to students.
We are truly changing lives and making dreams come true for so many of our students, and on behalf of the full senior management team we are grateful for your efforts and excellence.
#PFproud
Regards,
Frank Britt
CEO, Penn Foster