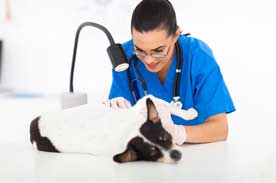 Plenty of people jokingly refer to their pets as their "children," but that statement might be truer than you think – a new study shows that pet owners have a connection with their pets that closely mirrors a mother-child connection.
Researchers at Massachusetts General Hospital studied a group of mothers who also owned pets, and brain scans showed they elicited similar emotional reactions when showed photos of their pets and their children.¹ It's just more evidence that Americans are pet-crazy – the U.S. pet industry is expected to rake in an estimated $58.51 billion this year.
With that level of dedication, it's no surprise that job opportunities for vet technicians are expected to grow 30% through 2022, much faster than the average for all occupations. In the online Veterinary Technician program at Penn Foster College, you can capitalize on your love for animals and prepare for a career in this growing field.
At Penn Foster College, you can train at home or on the go and gain real-world experience during your practicums. We've formed relationships with two of the largest veterinary hospitals in the country, and our faculty includes practitioners, authors, and officers of state and national veterinary technology education associations.
All of that instructor expertise has helped our graduates earn a pass rate on the Veterinary Technician National Examination (VTNE) that's 10% to 15% above the national pass rates. And did we mention that you'll pay just $79 per credit with no application fee?
Ready to get started in your new career as a vet technician? Learn more about our veterinary technician associate degree and how we stand out among vet tech schools.
¹ Source: http://laredosun.us/?p=10776