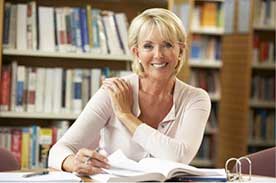 Even though studying for an adult high school diploma can significantly improve an individual's career and earning opportunities, many working adults worry that they're simply too busy to go back to school and earn a high school diploma. Maybe you work 40 hours a week to provide for your family or are responsible for providing daytime care to your kids. Even if earning your high school diploma seems like an impossible-to-reach goal right now, take heart. Online learning programs allow motivated adults to complete their high school education and move onto bigger, better opportunities.
Why Choose an Online High School Diploma?
Earning a diploma from a nationally accredited online diploma program is a great way to accomplish your personal goals and set the stage for future success. An adult high school diploma program follows the same general structure as a regular, in-person diploma program while eliminating the barriers that many adults face when deciding to return to school. Instead of attending in-person classes every day or evening, you can complete your education completely from your personal computer at the time that best fits your schedule and needs.
Of course, there are many reasons that adults choose online learning programs. Everyone's personal educational needs are different, and online schooling provides flexible solutions for those needs. Many adult students choose to study online for their high school diplomas because:
Online programs offer flexibility for students who work full time, are raising families or live in rural areas where in-person diploma programs aren't offered.
These programs feature customization options that aren't available to those adults who choose to complete G.E.D. preparation courses or attend in-person diploma courses.
Online programs help students prepare for an increasingly connected world by bolstering computer skills and ensuring that students have the technological savvy needed to secure jobs in today's competitive marketplace.
These programs help parents meet their own educational goals so that they can set a good example for their kids and better provide for their families.
Online diploma and certificate programs provide students with the basic qualifications that they need to study for A.A., A.S., B.A. and B.S. degrees.
Many online programs offer flexible payment options so that students can complete their education without added financial worries.
How Online Adult Learning Works
As you evaluate your learning options, it's important to understand what the online learning process really looks like. It might seem that you'll sit behind a computer disconnected from your fellow students, and you would be right to wonder how that would truly help you attain your goals.
Thankfully, a disconnected experience isn't what you'll have when you study online. Instead, you'll benefit from an online certificate program that is tailored to your needs while fostering a high degree of interaction with your fellow classmates. Penn Foster High School's online adult learning programs focus on:
Meeting the unique demands of each learner. Online degree programs take into account the time availability and desired work pace of each student. This means that you can complete your high school diploma whether you have four or 40 hours a week to dedicate to your studies.
Fostering collaboration and engagement between students. Even though they take place in an online environment, these programs offer students the ability to interact with and get to know their peers through wired student communities and forums. While these might not offer all the benefits of person-to-person interaction, they provide an accessible platform for students who want to connect with others but don't have the time to spend sitting in classes all night long.
Preparing students for today's job market and for higher-education opportunities. Online diploma programs offer courses of study tailored to specific industries. If you want to go on to an automotive tech school after you finish your diploma, for instance, you can concentrate on autos and technology. Choosing a specialized area of study for an online high school certificate is a great way for adult students to design a diploma program that meets their current and future educational needs.
Leveraging Success with Your Online High School Diploma
Earning an online-based high school certificate is a great way to meet the hiring requirements of many companies and prepare yourself for future educational success. It's important to make sure the school is regionally and nationally accredited. Programs without the proper accreditation are generally not accepted at community colleges or four-year schools. Of course, choosing an accredited program is also a great way to ensure that you're receiving a quality education.
Penn Foster High School's adult online diploma program is designed to foster success while empowering working adults to reach their educational and career goals. Specialty track diploma programs feed into Penn Foster High School's post-secondary education programs, allowing students enhanced chances at success. At the heart of these programs, though, is dedication to student needs.
As one past student has said, "thank you Penn Foster for making this so easy to accomplish while working and taking care of a household." Unlike the mail correspondence diploma programs of the past, online adult diploma programs allow students to work both individually and collaboratively to craft success. Whatever your goals, remember that reaching them is a matter of choosing an online diploma program that values you.