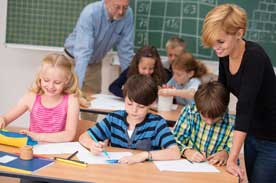 National Teacher Day offers the perfect opportunity to honor the educators who change lives and help shape the country's future. But while classroom teachers will receive much of the attention this May 5, there are plenty of others who work hard each day to ensure that students stay happy and healthy at school. Teacher's aides can be counted in this group – let's take a closer look at how these dedicated professionals work alongside teachers to help shape young minds.
Teacher's Aides: An Overview
Also called teacher's assistants, teacher's aides provide much-needed help in the classroom. While they typically work in elementary schools, teacher's aides can also be found in middle schools and high schools, as well as preschools, child care centers, and special schools.
Teacher's aides provide a full range of support, both to other educators and to the kids themselves. From helping with attendance and grading to supervising kids and preparing classroom materials, they are an active part of the learning experience.
While many teacher's aides support the entire class, others focus their efforts on helping students with special needs. These students may need more help understanding assignments and/or learning materials that are adapted to their learning styles. Students with more severe disabilities may require even more attention.
Teacher's Aides in the Classroom
There are more than 1.2 million teacher's aides in the United States, according to figures from the Bureau of Labor Statistics (BLS). The BLS expects the teaching profession to see strong growth between now and 2022, which means that teacher's aides will continue to play an important role in our classrooms.¹
While teacher's aides do a lot of learning on the job, many employers require additional education. Today's Teacher's Aide programs offer in-depth instruction in a wide range of core topics, including classroom management, learning theory, instructional materials, curriculum content, student supervision, and educational technology. These programs also help teacher's aides learn to work with families, giving them skills like overcoming language barriers or helping abused children. In addition, some programs offer valuable time in real classroom environments to help teacher's aides gain experience in the field as they prepare for their careers.
While teachers may seem like superheroes, the truth is that they can't do it all alone. Teacher's aides play a critical part in helping kids obtain the knowledge and skills they need to thrive – both in school and out in the real world. So when you thank a teacher this year on National Teacher Day, don't forget about teacher's aides!
¹ Bureau of Labor Statistics, U.S. Department of Labor, Occupational Outlook Handbook, 2014-15 Edition, Teacher Assistants, on the Internet here.
Statistics found in the United States Department of Labor Occupational Outlook Handbook are based on national data, so job growth in your area may be different.