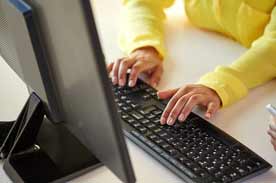 While distance learning is convenient, finding success while working through an online program requires organization and planning. Here are 10 tips to help you succeed as you earn an online education.
1. Create a study space
Designate an area of your home or other location as your official study space. Choose a quiet, comfortable, well-lit area. A study space will help you stay organized and focused on your studies.
2. Secure a computer and Internet connection early
Have access to the hardware, software and Internet connection you need to complete the coursework before you begin your program.
3. Read the syllabus.
Use the syllabus as a roadmap to success. As your course overview, the syllabus gives you vital information about classes, assignment schedules and more.
4. Watch or listen to each lecture as soon as possible
Prompt viewing of video lectures gives you enough time to do the associated reading and homework before the next lecture.
5. Fulfill requirements early
While Penn Foster students can work at their own pace, sticking to a schedule - either one you made for yourself or using the Study Planner App – can help you avoid procrastination. There is an old saying that goes, "To put off is to never do."
6. Schedule enough time to do the work
Schedule study time to avoid cramming at the last minute. Creating a schedule is especially helpful if you work or have a family.
7. Make backups
Back up your work to use as a copy from a remote location or if something happens to your computer. Save to an external hard drive, flash drive or a personal cloud account.
8. Read the school's student community Web pages
Online student community pages can help you optimize your distance learning success. There, you can learn about various academic groups and events, and you can read blogs and news stories relating to distance learning. Help sections and FAQs can answer your questions about academics, technical problems, or other areas of student care.
9. Connect with other students
Penn Foster's Student Community allows students to introduce themselves, ask questions, share experiences, and learn more tips to distance learning success. Use it to connect with other students, instructors, and Penn Foster staff.
10. Seek help early
Ask for help at the first sign of trouble. The longer you wait, the worse the problem is likely to become.
At Penn Foster College, you can choose from a wide range of education programs as you create a learning schedule that fits your life. Contact us today to learn more about how you can earn the education you want.