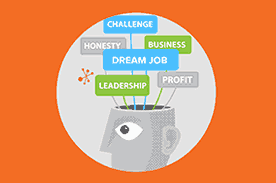 Welcome to Career-Focused Fridays! This weekly series is dedicated to helping you prepare for any post-graduation challenges so that you can focus on what is important: pursuing a career you love with the confidence to take the first steps towards success in your chosen field.
To help you get career-focused, let's start by answering a question asked by nearly all high school, career school, and college students: how do you choose a career that's right for you? While having a natural passion for a specific job is a great start, not all students know what field will be right for them. Here are a few tips for finding a career that's best-suited for you:
Do Your Research
Before you attempt to make any decisions about your career path, it's important understand what career options are available to you. Take a look at job listing websites or a school's course catalog to get an idea of what career paths are out there before you start narrowing your options, and keep an open mind when considering what careers might be right for you.
Identify Your Natural Talents
When choosing a career path, it's important to look at your personal strengths and identify the natural talents that will help you succeed in your chosen field. Even if you have limited experience in the workforce, think about the times doing something work-related came so naturally to you that it didn't feel like work at all. Are you a person that thrives on juggling several tasks at once, or do you work best when you can focus on one specific outcome? Determine what career will allow your natural talents to shine – and allow you to have a successful professional life.
Determine What Will Keep You Motivated
While having a job that keeps you financially stable might be enough to fill your short-term career needs, think about what careers offer opportunities for you to take on tasks that you feel naturally motivated to accomplish. Do you love the challenge of repairing cars? Is helping animals in a lab setting something you could see yourself doing for years without growing bored? Ask yourself what careers will give you the chance to do something fulfilling without it ever seeming like work.
Regardless of what career you choose to pursue it is important to keep your options open, identify your natural strengths, and figure out what job you could perform on a daily basis without losing your enthusiasm. Stay tuned for more career advice every Friday here at the Student Life Blog, and if you are a current Penn Foster student check out our Career Services to explore jobs, develop your career portfolio and more!
Sources
https://www.fastcompany.com/3051258/choose-the-right-career-path-by-asking-these-3-questions