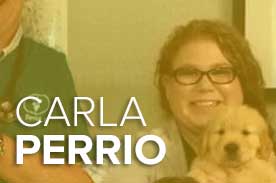 In this Student Life Blog post, we hear from Penn Foster Student Ambassador Carla Perrio who offers advice for balancing a busy life while working towards your career goals. Head here to learn more about finding the time to further your education.
"How do we balance our lives with school? How do you find time to study, stay on track and do well? How do you have time for a life?
These questions and similar ones are posted on the community every day. Each of our situations are a little different, but we all have a common goal. That goal is to do our best and succeed to better ourselves and our families.
My story is probably a lot like many of yours. My husband is active duty military and we have two children. We were stationed in Mississippi in 2012 when I started this journey with Penn Foster. I had been working as an unlicensed veterinary technician and I knew I had found my calling. I received a BS degree in Animal Production from Tarleton State University before I got married and thought I would be working in a zoo. Unfortunately, there were no zoos close to where we were stationed so I decided to try working at a vet clinic. I fell in love with it and knew it was the place for me.
During the summer of 2012, my husband received orders to Virginia. I started looking for a job and found out that to keep doing what I loved, I would need to become a licensed technician. I did some research and found that Penn Foster looked like the best fit for me. I started my studies and we moved our family to Virginia. I found a job working part time as a vet assistant shortly after we moved and was able to continue my studies on my days off and breaks at work. It seemed to be working well, but then, I was offered a full time position. I jumped on the opportunity and knew that I was going to have to change my study habits.
I spoke with my husband about our schedule and we decided on a way to make it all work. The first thing we decided is that Sunday would be family day. This was our day to relax and have a great time as a family. No studying, cleaning house, etc. It would be a day to rest and get ready for the week. I then decided that I would study for at least an hour and a half each night after the kids went to bed. This gave me an opportunity to spend time with the family and still get some work done. I also always keep my books and flashcards with me. I never know when I may have a few minutes to study. My lunch hour at work became study time and so did the time my daughter was in dance class. It has been a slower process that I was anticipating, but it was a steady pace.
Now, it is 2015 and I am getting ready to start Practicum 2. My hats have grown since moving here. I am still wife, mom, student, vet assistant but now, I have a Cub Scout den leader hat, a dance mom hat. I wear these new hats with pride and have learned a few things along the way. One is that life happens and there is nothing you can do to change it. Embrace life and let it enhance your experience as a student with Penn Foster. The school part doesn't last forever. Set small goals for yourself and celebrate those goals. Those small goals will add up quickly to your end goal and you will be a graduate before you know it. Make sure you enjoy the journey as well. I have grown so much as a person and I feel like I am a better person because of this journey with Penn Foster. I feel I am a better wife and mom and I enjoy the time I spend with my family so much more. I am not only earning this degree for me. I am earning it for my family and showing my kids how hard work and dedication pays off. It has not always been easy. Set your study time each day and stick with it the best you can. BUT, don't beat yourself up if something comes up. Just roll with the punches and your dreams will come true.
In a few days, the moving truck is coming again and we are moving to Mississippi for my husband's new orders. These are his last orders before retiring from the military and our family is getting ready for another adventure. I am glad I have finished the book part of the last semester and can focus on the practicum when we get settled in. It was a curve ball that I was not expecting, but I know that I have come this far and I am ready to receive my degree.
Best of luck to each and every one of you in your studies and life adventures. There is no magical way to make this work. You have to find what works best for you and stick with it. You will see your dreams become a reality."
To learn more about Penn Foster's Veterinary Technician Associate Degree program, click here.