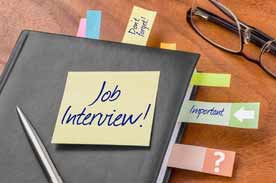 So you've completed your pharmacy technician studies and sent off your resumes? Congratulations! With the U.S. Bureau of Labor Statistics projecting a 20 percent increase in pharmacy tech jobs between 2012 and 2022,¹ many exciting opportunities await qualified professionals. However, one last thing may stand between you and a career as a pharmacy technician: the job interview. Prepare answers for these five questions and you may just ace your interview and land the pharmacy tech job of your dreams.
1. What made you want to become a pharmacy technician?
Employers can learn a lot from a job candidate's career goals. And while money may be a big motivator, employers don't want to hear what's in it for you. Instead, stick to service-oriented aspects, such as your desire to be part of a health care team.
2. Why do you want this pharmacy tech job?
Pharmacy technicians work in a variety of health care settings, from hospitals to drug stores. Each environment requires a particular set of skills and interests. Be prepared to explain in detail why the position appeals to you. For example, if you're interviewing for a pharmacy position at a grocery store, you might highlight your love of interacting with people.
3. Where do you see yourself five years from now?
While you don't have to provide a detailed five-year plan, you do have to show employers that you are committed to the profession and company. After all, the last thing a hiring manager wants to do is train new employees only to lose them in the months ahead.
4. How do you manage challenging customers?
While pharmacy technicians undergo rigorous clinical training, people skills are also an important part of the job. Pharmacy techs who know how to work with people skills can be valuable customer retention tools. Conversely, rude or unhelpful service can hurt customer loyalty. To win over hiring managers, explain your comfort working in stressful situations, along with your ability to remain calm and polite under any circumstance. If you have a particular example of a time when you kept your cool with a hot-headed customer, share your experience.
5. Why do you want to work for us?
The internet offers nearly unlimited access to information about companies that may be hiring. Use it. Researching organizations – and even the person with whom you're interviewing – demonstrates initiative. Pay careful attention to each company's mission and values, in addition to products and services. Today's employers are looking for workers who can make a contribution to corporate culture. Understanding what they're looking for lets you target your answers to meet their needs.
While many people dread interviews, planning ahead can help you turn an obstacle into an opportunity. Preparing for these five common questions will position you to best showcase your skills, experience, and talent during your next big pharmacy technician interview.
Source
¹ https://www.bls.gov/ooh/healthcare/pharmacy-technicians.htm (Statistics found in the United States Department of Labor Occupational Outlook Handbook are based on national data, so job growth in your area may be different.)