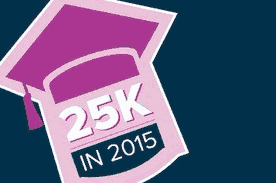 As we celebrate 125 Years of Penn Foster, we find ourselves poised to reach an incredibly exciting milestone. This year, we are on track to have 25,000 students earn their high school diploma and become Penn Foster graduates!
But we're not quite there yet – and that's where we need your help. Here's how:
If you are a Penn Foster High School student close to graduation, you can help us make history by completing your program by the end of the year and becoming a part of our largest graduating class yet.
If you are a current student that isn't quite sure whether you'll be able to complete your program and graduate before the end of the year, consider this a challenge to join the ranks of other Penn Foster graduates by earning your high school diploma.
If you have already earned your Penn Foster High School diploma, help us encourage others to do the same by lending your support through the Penn Foster Student Community.
The path to graduation is not always easy, and sometimes it takes a nontraditional approach for a student to get the most out of their high school education. If you are on track to becoming one 2015's 25,000 graduates, we applaud your courage and willingness to carve your own path – and if you need an extra push to help you finish your program by the end of the year, don't hesitate to contact Education or Student CARE with any questions you need answered to help you graduate.
25,000 graduates is not just an impressive statistic. 25,000 graduates means 25,000 opportunities seized by those looking to take their education – and their lives – further. It means 25,000 decisions made by students to tackle education on their own terms. If this sounds like you, and you would like to be a part of Penn Foster's next history-making graduating class, enroll online today!