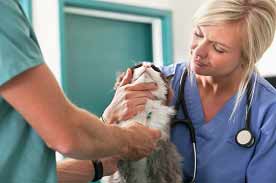 If you love animals and want to take the first steps towards a career that will keep you on your toes, it may be time to seek an education in an accredited veterinary technician program. Studying to work in this field allows you to pursue your passion, and the flexibility of online learning makes it possible to fit your course schedule into your life.
So what do veterinary technicians do? These professionals support veterinarians with the full spectrum of animal care and provide answers and support to pet owners. Your duties as a vet tech vary depending on where you work. If you work in a laboratory or veterinary office, you'll spend most of your time conducting tests, collecting samples, documenting behavior, and organizing data. If you work at a zoo or adoption clinic, you may spend more time educating owners and talking to customers.
This career path is enticing for many animal lovers, but it's not right for everyone. Here are six skills every veterinary technician should have:
1. Compassion
A love for animals is key for any veterinary technician. You must always put the animal's needs first and recommend the best course of action for the animal's well-being.
2. Emotional strength
As a veterinary technician, you will encounter cases of animal abuse and neglect. You might have to treat extremely sick or wounded animals, and in some cases euthanize those unable to be saved. You must be able to concentrate and show great maturity and resolve during stressful situations.
3. Patience
Many animals will be scared, distressed, and uncooperative during treatment. You must be able to remain calm and act in the animal's best interest, even if it takes several attempts.
4. Attention to detail
Just as doctors and surgeons must be precise when treating patients, vet techs must exercise the same level of detail when treating animals. You must correctly label blood and urine samples, administer the proper medications, perform and document the results of lab tests, and monitor animal behavior.
5. People skills
Worried animal owners look to vet techs for reassurance. As such, it's important that you have excellent listening and communication skills. You must be able to explain the problem clearly, answer questions and concerns, recommend treatments, and provide emotional support if necessary. Experience in a service-oriented position is a plus.
6. Physical fitness
Physical strength and stamina are necessary in strenuous situations. You may need to restrain a large animal in order to administer medication and be able to handle long, busy workdays.
If you have the skills and passion it takes to become a vet tech, Penn Foster College can help you get started on the path to achieving your dream. Here, you can earn Penn Foster's Veterinary Technician degree online and supplement your education with hands-on experience in veterinary clinics. We can help you prepare for the Veterinary Technical National Examination (VTNE) and get off on the right foot as you pursue a career helping animals and their owners.