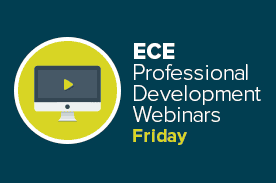 This week, Penn Foster's Early Childhood Education team hosts our Second Annual Penn Foster Professional Development and Career Fair – which features thirty webinars completely free to Penn Foster students! These webinars are great opportunities to learn from and network with ECE professionals, and might just open your eyes to aspects of Early Childhood Education you never knew you were interested in.
Below is a list of the presentations available to students on Friday, October 23rd. For a complete list of all Early Childhood Education webinars happening this month, check out our post here on the Student Life Blog.

Friday, October 23 @ 10:00AM EST
Topic – Intellectual and Developmental Disabilities
Instructor – Dr. Sherry Pietrzykoski, Penn Foster
Synopsis – The presentation will take the viewer through a variety of the intellectual and developmental disabilities and offer commentary on the current state of assessment, intervention methods and community and support groups available.
Friday, October 23 @ 12:00PM EST
Topic – Are You Interested in Owning a Child Care Center? Tips to Meet Your Goals.
Instructor – Nancy Moretti, Penn Foster
Synopsis – There are different options for getting started as a child care owner. One is through acquisition and the other is starting from scratch. Regardless of which option you choose, many steps that will be shared in this presentation will be the same. Please join Nancy Moretti, owner/director of Just for Kids in Smithfield RI and department chair of Early Childhood Education here at Penn Foster to learn tips to meet your goals.
Friday, October 23 @ 2:00PM EST
Topic – Child Engagement as an Indicator of Program Quality
Instructor – Alan Guttman, Program Manager for the Center for Technology in Education (CTE) at Johns Hopkins University School of Education
Synopsis – Monitoring protocols and quality rating systems focus primarily on a program's physical environment and structure; adult-child interactions; staff qualifications; care and education practices; and child outcomes. This workshop will consider the importance of child engagement in learning as an indicator of program quality. In this interactive session participants will learn how to define and identify the types and quality of a child's engagement with adults, peers, play activities and instructional tasks. Typical classroom activities will be analyzed and discussed to broaden and deepen participant understanding of how best to support and promote high quality child engagement in learning.
Friday, October 23 @ 4:00PM EST
Topic – Setting Limits: Are You Inadvertently Reinforcing Challenging Behavior?
Instructor – Shawna Ebbseon, Early Childhood Consultant
Synopsis – This online webinar addresses 3 common practices that inadvertently reinforce negative behavior. Educators will learn how children learn and identify the two ways in which adults communicate boundaries with children. We will then explore ways in which strategies can be applied to effectively and successfully set limits while building trust and nurturing the relationship with the child(ren).
Friday, October 23 @ 6:00PM EST
Topic – Yoga and Mindfulness for Kids
Instructor – Mai Merit, Director and Founder of 123 Kids Yoga
Synopsis – During this session, Mai will share how mindfulness and yoga work hand in hand, how to implement a mindfulness and yoga program into a day and the benefits of yoga for young children.
Friday, October 23 @ 8:00PM EST
Topic – Easing Parent and Caregiver Anxiety as Children Begin Early Childhood Programs: What Educators Need to Know
Instructor – Becky Dotzel, Penn Foster
Synopsis – Based on my experience as an educator and parent of three, this presentation will serve to provide those in the Early Childhood Field (especially those who are not yet parents) with an understanding of the anxiety parents and caregivers often face when beginning an early childhood program. It will provide educators with an understanding that will increase their ability to establish early on a warm and trusting relationship with families. Strategies and research-based methods for reaching traditional, blended, and ethnically diverse populations will be discussed.