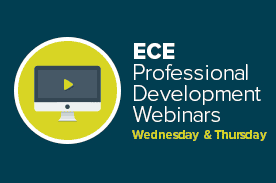 This week, Penn Foster's Early Childhood Education team hosts our Second Annual Penn Foster Professional Development and Career Fair – which features thirty webinars completely free to Penn Foster students! These webinars are great opportunities to learn from and network with ECE professionals, and might just open your eyes to aspects of Early Childhood Education you never knew you were interested in.
Below is a list of the presentations available to students on Wednesday, October 21st and Thursday, October 22nd. For a complete list of all Early Childhood Education webinars happening this month, check out our post here on the Student Life Blog.

Wednesday, October 21 @ 10:00AM EST
Topic – Kidini Bully Prevention Child Safety Starts at Age 2
Instructor – Michael Ray Graves, Founder of Kidini Bully Prevention Child Safety
Synopsis – In this session you will learn safety and bully prevention when working with early age children, age-appropriate fear management techniques to stay safe, and character formation by increased confidence and self-esteem.
Wednesday, October 21 @ 12:00PM EST
Topic – Enhancing Storytime
Instructor – Rachel Tajan, Penn Foster
Synopsis – In this webinar, we will learn the importance of having story time in the classroom, how to make the most of your read aloud and how to extend story time into the classroom.
Wednesday, October 21 @ 2:00PM EST
Topic – From Student to Professional: Tips to Help You Successfully Navigate Your Career Path
Instructor – Susie Billingsley, Bright Horizons
Synopsis – This session is aimed at students or recent graduates, but is relevant to anyone considering change or seeking to gain more insight into interviewing, resumes building or presenting yourself as a professional.
In many fields, the transition from student to professional can be daunting. In the early childhood field, this is further complicated by the perception that early childhood is not a professional career. While this perception is changing as national and state initiatives focus on professionalizing the field and increasing quality, there is much more work to be done. Changing this perception begins with early childhood teachers themselves. Being prepared to present yourself professionally, meeting the professional expectations of typical ECE careers, and having a long-term plan for your career path are essential strategies to turning a childcare teacher job into an early childhood professional career.
Wednesday, October 21 @ 4:00PM EST
Topic –Ideas and Techniques to Rock That Job Interview
Instructor – Diane Placidi, Penn Foster
Synopsis – During this session, Diane will reviewing how to prepare, dress and present yourself, answer difficult questions, phone interviews, and more. At the end of the session, the forum will be open up the forum for questions and answers.
Wednesday, October 21 @ 6:00PM EST
Topic – Explore, Experiment, and Excite with Science in Early Childhood Education
Instructor – Sarah Owens, Penn Foster
Synopsis – Young children instinctively learn through exploring and experimenting with their environments and the objects within it. Science is an extension of this natural exploration that we often times struggle with implementing into our early childhood classrooms. It is our job to encourage and support children's natural exploration and experimentation by providing them with engaging and exciting opportunities for science in the classroom. Join Sarah Owens in looking at the vast array of science opportunities available to implement into your early childhood classroom!
Wednesday, October 21 @ 8:00PM EST
Topic – Supporting Early Language and Literacy
Instructor – Debra Pierce, Author of The CDA Prep Guide: The Complete Review Manual for the Child Development Associate Credential
Synopsis – We will discuss the importance of engaging young children early on, with simple and effective strategies for literacy and language development. What are the best types of books and is there a right or wrong way to read to them? Other topics include music and movement and supporting language and literacy for ESL children.
Thursday, October 22 @ 10:00AM EST
Topic – A Positive Approach to Discipline
Instructor – Cindy Terebush, Certified Youth, Parent, Family Coach and NJ Certified Teacher
Synopsis – Behavioral challenges are both a teaching and learning opportunity. Participants will discover how to avoid power struggles, set realistic expectations for young children and communicate this information to parents. When expectations are age appropriate, teachers can learn how to be instructive rather than punitive. Discover what young children realistically can and cannot do, the benefits of "time in" rather than "time out", the physiology of tantrums and more as we work to add to our understanding of behavior. Discipline can be a positive part of teaching young children.
Thursday, October 22 @ 12:00PM EST
Topic – Youth in Harmony Project: Diversity Education for Birth to Elementary
Instructor – Tameka T. Phillips, Certified Child Care Trainer at Della's Apron
Synopsis – The Youth in Harmony Project is an initiative designed to expose young children to the rich diversity of the human experience. Through positive experiences - both in and out of the classroom setting - we foster an awareness and appreciation for self and others. Through this collaborative approach, YiH seeks to promote equity, inclusion and social justice, making our global community a better place for everyone to live, work and play.
Thursday, October 22 @ 2:00PM EST
Topic – Sensational Beginnings, Sensory and Motor Activities for Infants and Toddlers
Instructor – Marilyn Bitsis, Owner/Presenter at KidBuilders and Margaret Schafer, Presenter/Trainer at KidBuilders
Synopsis – The trainers will introduce themselves and the subject matter. Through the PowerPoint presentation the learners will see an overview of the brain development in infants and toddlers. Key points will be discussed, emphasizing that everything the caregiver does with the baby in daily routines affects how her sensory experiences impacts her development. They will explain that the foundation for later motor development is laid in very early sensory motor experiences that include visual, auditory, olfactory (and taste), tactile and muscle and movement. The remainder of the training will explore each modality across the following age groups: birth to 3 months, 3 to 6 months, 6 to 12 months, 12 to 18 months and 18 to 24 months.
Thursday, October 22 @ 4:00PM EST
Topic – Who's There to Protect the Child: Supporting Mandated Reporters of Suspected Child Abuse
Instructor – Alan Guttman, Program Manager for the Center for Technology in Education (CTE) at Johns Hopkins University School of Education
Synopsis – Early development and learning occur when children are healthy and safe. This session will focus on the importance of implementing reporting policies, procedures and strategies that protect children when abuse is suspected. In this engaging session, we will learn why staff sometimes don't report suspected child abuse. Then we will discuss what you can do to support staff in their role as mandated reporters.
Thursday, October 22 @ 6:00PM EST
Topic – Storytelling Techniques in the Classroom
Instructor – Krystal Marsh and Sarah Owens, Penn Foster
Synopsis – Do you struggle with finding stories for your classroom that meet your teaching goals? Are you interested in exploring new techniques that will allow your students creativity to shine? Come join Early Childhood Education Instructor Sarah Owens and English Instructor Krystal Marsh to learn more about why stories are important and how to implement fun and beneficial storytelling activities into your classroom!
Thursday, October 22 @ 8:00PM EST
Topic – Caring For Children: Choosing to Make It a Professional Career
Instructor – Dareen Artisty, Guest Speaker
Synopsis – Child care providers will learn how and why they should become professionals in the field of early education. Engaging in a home childcare business includes more than caring for children; this workshop will show you how to grow from babysitter to professional child care educator.