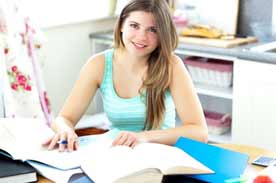 For many high school seniors, high school graduation is just the first step on their academic path. The diploma they're working so hard to earn is not the end goal – it's key to getting into a good college or university. For those who earn a diploma through homeschooling, the goal is often the same. However, their path from diploma to college admission isn't always as clear-cut.
Over the years, thousands of Penn Foster High School students have made the transition from a homeschool environment to traditional college courses.¹ Here's a guide for those who want to take the next step in their academic career.
Choose the right courses – Whether you plan to study art, education, biology, or anything in between, you'll need a strong transcript to gain admission to your desired college. Most colleges want well-rounded students who have a solid background in math, the sciences, history, literature and English. Be sure that your homeschooling program meets all of the qualifications required by the school you plan to attend.
Start early – Before the start of your senior year, start thinking about what you want for your college experience. Maybe you want to attend classes on a traditional campus. Or maybe you'd prefer the flexibility of online classes, which offer the same level of support and guidance, all from the comfort of your own home. Whatever you choose, research potential schools online or contact them directly if you have specific questions. By doing this legwork early, you'll eliminate some of the stress and worry as your senior year progresses.
Take those tests – Most colleges and universities place a great deal of weight on standardized tests like the ACT and the SAT when deciding which students to admit. You can arrange to take those tests as early as your junior year. That way, if you are not completely satisfied with your scores, you can retake the tests in your senior year. Consider taking advance placement tests as well, especially in the areas you have studied at an advanced level.
Extracurricular activities – Don't forget that college admissions boards are looking for more than just academic talent. While good grades and high test scores certainly matter, they're also on the lookout for students with leadership potential, strong interpersonal skills and even a highly developed sense of altruism. By joining clubs, participating in sports, and volunteering, you can demonstrate that you have these valuable skill sets.
The transition from high school to college is a big one for any high school student, but homeschool students need a different set of tools and resources. But a little planning can go a long way. Plus, Penn Foster College has a long history of working with home school students, so we'd be glad to help you take steps toward for your college career. Contact us today to learn more.
Sources
https://mitadmissions.org/apply/prepare/homeschool/
https://admission.princeton.edu/how-apply/home-schooled-students
¹ Homeschooling Requirements: Penn Foster High School students who are of compulsory age must also comply with home school requirements dictated by their school district, or those students will be considered truant. You need to check the requirements of your district to ensure the Penn Foster High School Program meets the district's home school requirements.
https://mitadmissions.org/apply/prepare/homeschool