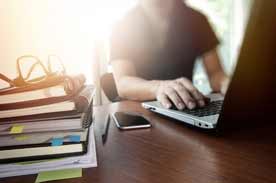 Online learning offers students a convenient way to continue their education and work toward a better job. Many traditional colleges and universities are facing budget cuts, course shortages, and tuition costs that constantly creep higher. As a result, students across the country are choosing to log in to online courses to further their education.
Enrollment for online classes has increased over the past decade. Nearly three million students are currently enrolled in fully online programs, while six million take at least one online course as part of their degree program.
Advantages of Online Learning
Many students, educators and employers who may have once been hesitant now view online learning as a great alternative to the traditional classroom experience. Online courses provide a wide range of advantages, such as:
Variety
Online learning offers a nearly endless variety of programs and courses, from accounting to veterinary technician training. Students may earn nearly any academic credential online, including bachelor's and associate degrees, undergraduate certificates and career certificates.
Simplicity
Online learning relieves some of the pressure of going to school. Students receive lectures and other materials electronically, without the hassles of traffic, parking, inconvenient scheduling and trips to the library. Students simply read the materials and complete assignments when it is convenient.
A comfortable pace
Online classes allow students to set a comfortable pace for learning. People learn at different rates; many online learning programs let students progress at their own pace.
Flexibility
Online learning offers unmatched flexibility in scheduling. Students can plan study time around their job and family responsibilities, allowing them to study when they are at their peak energy levels, whether early in the morning or the middle of the night.
A focused environment
Online classes make it easy to focus on the assignment at hand. Free from the distraction of noisy classmates and classrooms, many students find it easier to concentrate.
Career advancement
Online learning provides an opportunity for students to take online courses or even complete degrees to advance their careers. Online classes make career advancement more accessible to students who work full time or are raising a family.
Improved technical skills
Simply engaging in online courses improves your computer skills, which are valuable in most high-paying jobs today. Students learn how to navigate different learning management systems and computer programs, different ways to create and share documents, and how to incorporate audio and video materials into assignments.
If online courses sound like a good fit for your life, contact Penn Foster today to learn more about our programs and course options.
Sources
https://nces.ed.gov/pubs2014/2014023.pdf
https://onlinelearningconsortium.org/survey_report/changing-course-ten-years-tracking-online-education-united-states/