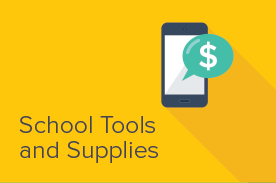 As we celebrate 125 years of educating the non-traditional learner, we've definitely learned a few things along the way. Among them is the importance of giving student the tools and guidance to achieve success throughout the education journey. Today's tech-savvy landscape makes access to top resources even more attainable to students across all landscapes and backgrounds. To continue in our efforts to improve outcomes for students and schools as well as the communities they serve, we've compiled 125 of the best resources for student success.
In part the final installment of our five-part series, we take a look at 25 tools and supplies that can help ease the cost of otherwise costly school materials. Check out these inexpensive and free academic resources, software alternatives, study apps and more tools to give you the support you need without breaking your budget – and be sure to stop back next week to see our complete list of 125 Resources That Help Students Succeed!
1. World Book Online for Schools: A diverse suite of learning sites for every age, ability, and interest to suit the needs of all students in your school.
2. GIMP: New graphics students may struggle with costs of downloading popular design suites. GIMP offers a free-alternative for full-featured photo editing that's comparable to Photoshop.
3. All Free Samples: Comprehensive list of free sample products including computer products and school supplies.
4. Abebooks.com: Free shipping and a way to shop 13,500 online booksellers at once.
5. The Library of Congress Research Tools: You don't have to live in DC to have access to the Library of Congress resources.
6. Encyclopedia.com: Search over 100 resources.
7. Encyclopedia Brittanica: Online edition of the classic reference.
8. Zotero: A bibliography manager that integrates with Firefox, enabling automatic upload of webpages and resources to your bibliography.
9. World Atlas: Explore the world with this online map.
10. Project Gutenberg: Public domain books.
11. BookFinder: Search over a hundred online bookstores for used or affordable copies of your required texts.
12. OttoBib: For non-digital sources uses, OttoBib lets you enter the ISBNs of all the books you used in a paper to ease the "works cited" process.
13. Addall.com: Compares textbook prices across the web.
14. OpenOffice.org: Word processor, spreadsheet, presentation software and graphics editor programs compatible with most Microsoft Office programs. And, best of all, it's free!
15. BetterWorld.com: Save money on textbooks while helping those in need. Better World matches every purchase on their website with a book donation to someone in need.
16. Pew Research Center: Research database presenting facts on issues, attitudes and trends shaping America and the world.
17. FreeMind: Great mindmapping program, useful for brainstorming, outlining projects, and keeping notes.
18. Mozy Backup: An Internet-based backup system that enables up to 2GB of file storage for free.
19. J-Stor: Digital library of academic journals, books, and primary sources.
20. Dictionary.com: Comprehensive digital source for everything related to words.
21. GoConqr: A sharing app where students and teachers can upload and organize class notes, flash cards, mind maps, quizzes, and more.
22. The Simple Dollar: This list shows students where student ID's can be shown for discounts on everything, including tech supplies.
23. Vistaprint: For students on the hunt for internships or job opportunities, business cards are a valuable networking tool. Get them free at Vistaprint.
24. Codecademy: Free coding lessons for all levels of learners.
25. Duolingo: Learn any language, for free, on the go with this interactive app.