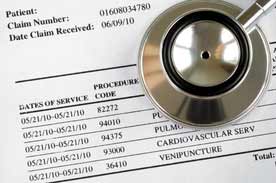 Medical billing and coding careers are on the rise, according to the U.S. Bureau of Labor Statistics (BLS), which expects the employment of medical billers/coders and other health information technicians to grow 22 percent between 2012 and 2022. The aging population of the United States will drive this growth, as the increasing number of older patients will need more medical tests, treatments and procedures that require medical billing and coding services.
So where will all of these professionals work? The health care industry is vast and offers a variety of opportunities in a wide range of settings.

Where do medical billing and coding professionals work?
Medical billing and coding professionals typically work at doctor's offices or clinics, hospitals, insurance companies and government departments. Each place provides a slightly different work experience and job description for the medical biller/coder.
Doctors' offices or clinics
Medical billing and coding positions in doctors' offices typically involve calculating patient care costs and sending bills to insurance companies and patients. A medical coder may review patient information for pre-existing conditions that could affect treatment, such as diabetes. A medical coder may also retrieve patient records for medical personnel, as well as give doctors and hospitals the information they need to track the most effective therapies.
Hospitals
Medical billing and coding professionals who work at hospitals typically calculate the cost of patient services, communicate with health insurance companies and prepare and send bills to patients. These specialists must be familiar with the hospital's fee structure and computer systems, which are often complex. They must also be able to answer patients' questions about their bills.
Insurance companies
A medical coder may function as a liaison between the health clinician and billing offices. They may also review patient information for pre-existing conditions that may change coverage or treatment recommendations.
Government departments
Medical billing and coding specialists in government departments help administrators determine which treatments work best for specific patients, based on patients' prognosis and prior therapies. Medical billing and coding careers in government departments requires very little contact with doctors or patients.
Wherever you choose to work, Penn Foster Career School can get you started on the path toward a career in the medical billing and coding field. Contact us today to learn more.
Statistics found in the United States Department of Labor Occupational Outlook Handbook are based on national data, so job growth in your area may be different.
Source
https://www.bls.gov/ooh/