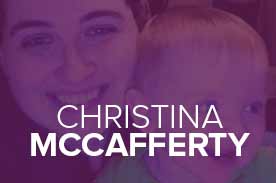 Christina McCafferty is in her second year as a Student Ambassador for Penn Foster. A Veterinary Technican student, Christina shares with our blog her feelings about her career choices and her experience with Penn Foster.
I am so glad to be back as a second year ambassador! I am currently enrolled in the vet tech program. I am 75% through semester 2! As most vet tech students I have a few pets....a couple of cats, Bays, Chloe and Gidget. A hamster named Wagner, A beta. Also Two Gold fish named Aire and Big D, and also a sucker fish named Stanley!
I have two jobs, one part time (in a small animal clinic) and a regular 40+ hour a week gig (regular office job). I love to spend my time helping out local animal shelters and helping to feed homeless cats as needed. I was a foster parent for a cat once, she is now my little stomatitis kitty - I have learned that fostering is not my thing - I can't say no! I have so much respect for people that can:) I hope to be a licensed tech in the next year and a half.

I have been enrolled in this program since July 2013. I had a blast last year getting to know everyone! I live in the Pacific Northwest so I haven't been able to attend a meet up but hope this year I can attend one. I love all the instructors and Doc Jim is amazing!
Learn even more about Christina on her Penn Foster Community Page.