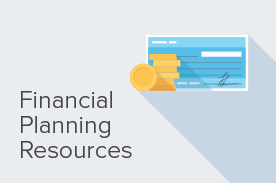 As we celebrate 125 years of educating the non-traditional learner, we've definitely learned a few things along the way. Among them is the importance of giving student the tools and guidance to achieve success throughout the education journey. Today's tech-savvy landscape makes access to top resources even more attainable to students across all landscapes and backgrounds. To continue in our efforts to improve outcomes for students and schools as well as the communities they serve, we've compiled 125 of the best resources for student success.
In part four of our five-part series, we look at 25 resources to help students with their financial planning. Not sure how you're going to pay for school? Need advice on managing your finances after graduation? Check out the links below for information on scholarships, loans, budgeting, and making the most of your money.
1. Federal Student Aid: Education Department guide to financing education.
2. FinAid: Scholarships, loans, saving for school, and other aid.
3. BigFuture: College Board guide to paying for college.
4. National Association of Student Financial Aid Administrators: Professional financial aid advice.
5. SavingforCollege.com: 529 plans and other options.
6. How to Make Money while in College: Six income-earning strategies.
7. Beat-Tuition.com: 35 ideas for earning in college.
8. 6 Online Jobs for College Students: Ways to earn from home.
9. Junior Achievement Apps: Includes apps for calculating college costs.
10. Collegiate Entrepreneurs' Organization: Student entrepreneur network.
11. MyMoney.gov: Personal finance basics.
12. Mint.com: Web-based personal financial services app.
13. DaveRamsey.com: Budgeting and debt management.
14. Bankrate: Financial literacy foundations.
15. Nolo Personal Finance: Budgeting, saving, investing, and other topics.
16. Consumer Reports: Personal finance and smart shopping.
17. Wise Bread: Living large on a small budget.
18. America Saves: Starting small while thinking big.
19. ChooseMyPlate.gov: USDA guide to healthy eating on a budget.
20. HUD.gov: Buying a Home Guide: Start planning your first home purchase.
21. Jonathan D. Pond: Expert advice from "America's Financial Planner."
22. Kiplinger: Personal finance and business forecasts.
23. The Motley Fool: Stock investment advice.
24. CNN Money: Personal finance advice and planning tools.
25. Quick Links for Consumers & Communities: FDIC news and tips.