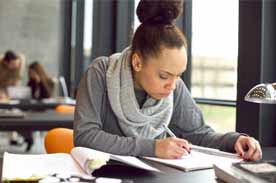 With the freedom of online high school comes the challenge of studying and completing work. After all, it can be tempting to put an assignment to the side when your bed, refrigerator, and television are all just a few steps away.
However, as many Penn Foster High School students have proven over the years, online learning has many advantages and is a terrific option for many students. And by following these key study tips, you can help ensure that your time in the virtual classroom is well spent. Here are a few proven strategies you can try:
Turn details into a story
Link concepts together with metaphors, patterns, and analogies. Each piece of information should connect to the next to help you understand the big picture. Try telling the story to yourself. Does it make sense? How would you teach the concepts to someone else?
Quiz yourself
Create practice tests for yourself after each chapter or section. Writing out the questions helps you review and retain the material, as does taking the test. You'll discover your strong points and areas that need improvement. You can also have a parent, sibling, or friend test you using questions from the textbook or study guide. Try to mimic the actual exam environment – it'll help you prepare for the real thing.
Write out the facts
The act of writing helps your brain process the information. You should write out not only facts and figures, but also any questions you may have for your instructor.
Reward yourself
Set goals and reward yourself upon achieving them. For example, you can tell yourself, "I can have a snack after I review this chapter," or "If I score 90 percent on this practice exam, I can play an hour of video games." Set reasonable goals and rewards – don't torture yourself or make it too easy.
Give yourself a break
Break up long study sessions into parts. Do some physical activity or spend time with friends and family in between. You'll feel recharged and better equipped to retain the information. Don't wait until the night before an exam to study, and don't study past your normal bedtime.
Create flashcards
Flashcards are one the most effective ways to memorize vocabulary, scientific terms, and historical facts. The questions you answered incorrectly on your practice quizzes make an excellent starting point. Have a friend or family member quiz you, and time yourself. It's a fun way to keep the information fresh in your mind.
Outline your notes
Rather than jotting down facts word for word in complete sentences, organize them into easy-to-read outlines. Don't be afraid to create your own system of outlining, and try to relate the material to other areas of your life. Different colored pens, highlighters, and/or sticky tabs can help you group related information across long sections, but they aren't for everyone. Do what works for you.
These days, students around the world are discovering the benefits of online high school. By using smart study habits, you can get the most out of your experience and set yourself up for success in the future. Contact Penn Foster High School today for more information.
Sources
https://www.testtakingtips.com/study/
https://www.lifehack.org/articles/productivity/23-things-top-students.html