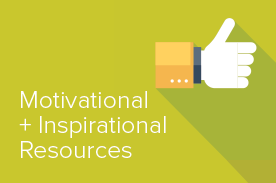 As we celebrate 125 years of educating the non-traditional learner, we've definitely learned a few things along the way. Among them is the importance of giving student the tools and guidance to achieve success throughout the education journey. Today's tech-savvy landscape makes access to top resources even more attainable to students across all landscapes and backgrounds. To continue in our efforts to improve outcomes for students and schools as well as the communities they serve, we've compiled 125 of the best resources for student success.
This week we focus on Motivational and Inspirational Tools to help you overcome challenges when you need that extra nudge. Check out our list of 25 resources below to see if you can find the motivational pick-me-up you need to accomplish your goals.
Note: Not all apps may be available for some smartphone operating systems. Check with your app store.
1. Coach.me: As the ultimate productivity community, Coach.me helps you achieve your goals by showing progress and celebrating milestones.
2. MustacheStories.com: Visit this community of change-makers and read stories about the power of believing in your dreams.
3. "Need some motivation?" video: "You have to create the perfect time and the perfect opportunity." Play this YouTube video as a six-minute pick-me-up for reconnecting with your goals.
4. Pinterest: Create Pinterest boards of motivational quotes, the life you dream of and reasons for why you're getting an education. These boards can inspire and re-energize your mindset.
5. "Your Hand in Mine:" No greater song exists to boost motivation than "Your Hand in Mine" by Explosions in the Sky. Add it to a customized playlist of other meaningful songs.
6. Humans of New York: Use these tales and fascinating documentaries from true New Yorkers as inspiration to create your own impactful, one-of-a-kind story.
7. Nike Football Leave Nothing commercial: Die-hard sports fans, watch this Nike commercial as motivation for tackling challenges, pushing through and scoring big.
8. FaceTime - If miles separate you from friends and family while at school, plan FaceTime meetups with friends and family to share updates and find support.
9. TED App: Need a study break? Watch riveting TED talks from "education radicals, tech geniuses, medical mavericks, business gurus, music legends and other remarkable minds."
10. "Lean In: Women, Work, and the Will to Lead" - Sheryl Sandberg, COO of Facebook, examines women's leadership roles in the workplace and empowers women with solutions on how to achieve their full potential.
11. StickK: Nothing can be as motivating as money. And by using this app, failing to reach your goal will cost you cash.
12. Rise: A lack of motivation can stem from poor health. Revive the health of your mind and body with Rise, your personal digital nutritionist.
13. Nike+ Training Club App: Beat lagging energy and sluggishness by reinvigorating your fitness lifestyle to also reinvigo-rate your approach to school.
14. GPS for the Soul: This app can help you replace stress and anxiety with harmony and balance. Find support to stay on course by connecting with music, poetry, breathing exercises and even pictures of loved ones.
15. Yoga RELAX: Burnout may cause your motivation to dwindle. Take a break from the books and engage in yoga postures to calm the mind and body.
16. Calm: Feeling overwhelmed can create demotivation. Step back from the stress and meditate with Calm to improve your mood, relax and recharge.
17. Talkspace Therapy: Talkspace connects you with licensed therapists who can provide advice and guidance to help you overcome challenges and keep up momentum.
18. Wonderful Day App: "Stay motivated, every single day." Wonderful Day helps ensure you don't break the chain and reach everyday personal goals.
19. Alarm Clock Xtreme: Set the tone for your day with a great morning. Alarm Clock Xtreme wakes you up with your favorite song to positively energize the start of your day.
20. LinkedIn: Use LinkedIn to connect with driven people who share career tips and insightful industry trends.
21. Figure: A free and fun music-making app for instant inspiration.
22. Your instructor's open door: Take advantage of your instructors' open-door policies. Visit their office or connect online for help overcoming obstacles.
23. Role model: Identify with someone whom you admire and use their personal story as inspiration for reaching their level of success.
24. Mentorship program: Explore a mentorship program at your school or online and surround yourself with positive influences who can guide you toward your goals, helping you achieve success.
25. Community service: If you're in a slump, volunteer in your community. Helping others creates positive vibes and the inspiration to re-engage with your personal goals.