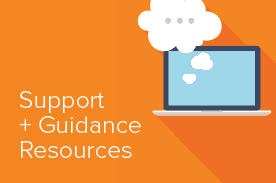 As we celebrate 125 years of educating the non-traditional learner, we've definitely learned a few things along the way. Among them is the importance of giving student the tools and guidance to achieve success throughout the education journey. Today's tech-savvy landscape makes access to top resources even more attainable to students across all landscapes and backgrounds. To continue in our efforts to improve outcomes for students and schools as well as the communities they serve, we've compiled 125 of the best resources for student success.
In part two, we show you a list of support and guidance resources that will provide help finding support for school-related issues such as tutoring or guidance on personal matters. Here are some sites for you to bookmark today.
1. InstaEDU: For those moments when homework just isn't making sense, get help on-demand.
2. PrestoExperts: No need to leave your room, get online expert tutoring from LivePerson.
3. Smarthinking: Because one can never get enough online tutoring, here's another resource for on-demand student support.
4. Student-Tutor: Take it online or offline with this In-home and web-based private tutoring and standardized test preparation.
5. Cliff's Notes: Need a quick refresher on "To Kill a Mocking Bird"? Get free study guides for literature and other subjects here
6. SparkNotes: Get the latest news on hollywood happenings while brushing up on "Romeo and Juliet." Plus, score some free study guides and test prep tools too.
7. Barron's: The definitive source for every study guide imaginable.
8. Meetup: Finding like-minded individuals to spend time with is a great way to establish a support system.
9. HomeworkSpot.com: Homework information portal organized by topic and grade level.
10. Fact Monster Homework Center: Help with popular subjects as well as writing, research, speaking and listening, and study skills.
11. Math.com: For those left-brain dominant, get math homework help online. (http://www.math.com/students/homework.html)
12. ULifeline: Therapy isn't always an option for students on a budget. This site provides online mental health resources to help with depression, anxiety and more.
13. Presto Experts: Balancing family responsibilities with school? Get Online family help here.
14. Forums at PsychCentral: Online Discussion boards to get support from people going through similar experiences as you.
15. Helping Hands for Single Moms: Community-based nonprofit that empowers single moms in their pursuit for a college education and financial independence.
16. Friends of Quinn: Online community for students with learning disabilities.
17. International Student: Adjusting to a new school let alone a new country can be incredibly stressful. Ease the transition with these resources for international students.
18. Flashnotes: Guides, notes and video tutoring by students for students.
19. The Mindfulness App: Sometimes all we need is time to clear our mind from stress. The Mindfulness App helps you to reduce stress and increase well-being in just 20 minutes.
20. Creative Writing Prompts: When that English assignment just isn't happening. This resource can help beat writer's block and get the creative juices flowing.
21. Cram: Get ready to ace that final with digital flash cards. Make your own or a borrow pre-made stack.
24. iSeek Careers: Online skills assessment; you tell them what you like to do, and they'll tell you what jobs you might like.
24. Casey Life Skills: A free tool to assess the behaviors and competencies you'll need to achieve your long-term goals.
25. Mind Tools: Online tools to help you have an excellent career.
See our first part of our series - 25 tools for Time Management