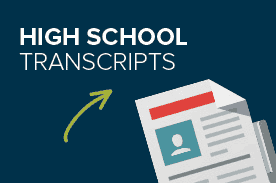 Guest Post from April Holgate - Student CARE Representative
When you first enroll at Penn Foster, there is a lot of information coming your way. In fact, there is so much that it is easy to miss a few things that can really help you finish your program quicker and save you money. Who doesn't like that idea?
If you completed any high school previously, [grades 9-12,] you might have some credits transfer into the Penn Foster High School program. There are a few factors that go into evaluating those credits, but it very likely something will transfer. Why not give it a try? Even if you only save $40, it is money you get to keep in your pocket!
To have those credits evaluated, you just need to send in official transcripts. Your transcript will list the classes you've taken every year of high school and your final grade in each one. Your school has to give you a copy of your transcripts if you request them, as long as you do not owe them money. You may have to pay a fee to have them sent; this is common in both high school and college. Generally schools charge anywhere from $2 to $20 to send official transcripts. Colleges usually charge more than High Schools. If you cannot get them from the school for any reason other than a balance owed, you may want to contact the State Board of Education to request them.
Official transcripts must be mailed and arrive in the sealed envelope from the school.
They should be addressed to:
Penn Foster
925 Oak Street
Scranton PA 18515
Transcripts cannot be emailed or faxed. If your school participates in Parchment, scrip-safe.com or docufide.com, the transcripts can be sent electronically using one of those methods.
Keep in mind that mailing takes longer than electronic delivery. The Postal Service has earned the name "Snail Mail" for a reason. Be sure to give at least two weeks from the time you request them for your transcripts to be delivered. Once they arrive, our transcript evaluators will take about 3-5 days to evaluate them to see what meets Penn Foster requirements. It is possible that not everything that counted at your other school will count here.
For High School credits, the grade you received has to be higher than a 65%, anything lower than that cannot be accepted. This is important, because your old school will count a D- as passing, however, we cannot take it for a credit. It also depends on what your school curriculum included. For example, while you may have a science credit at your old school for Chemistry, it will not transfer in for any of our science classes since we do not have Chemistry in our core courses. The good news is that as long as it meets grade requirements, it can still transfer in as an elective!
College is a whole other kettle of fish, we can talk about that in detail in another post! For right now, we are going to concentrate on High School.
The Penn Foster High School program has 21.5 credits. That includes 16.5 Core course and 5 Electives. You can have a maximum of 16 credits transfer into the program. For every credit that transfers into the program, your balance will be reduced by $40, which can really add up!
When you are waiting for the evaluation to be completed, it is very important not to do classes that would have transferred. If you start a class that you would have been credited, we have to charge you for the class and you will need to complete it with us. This is why it is often advised that students do not go past the first 3 classes, Orientation, Human Resources and Reading Skills. These are requirements unique to Penn Foster, so you can work on them while you wait.
After the transcripts are evaluated you will receive an email letting you know what credits were added. You may also see it on your courses page before the email arrives. In the title box, you will see the words Transfer Credit for any subject that transferred. In the grade section, you will TR where the grades would be posted. These classes will never open after the evaluation is completed; they will still be on your courses page, but they won't stop your other subjects from opening as you complete exams.
This process can take a little time, but in the long run it is worth the money saved and time you would have taken doing the classes! Definitely take the time to have those transcripts mailed in as soon as you enroll!
Learn more about Penn Foster High School today!