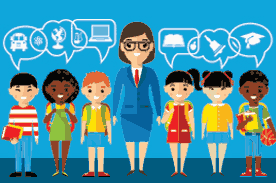 For creative people looking for a career that allows them to work with others in an exciting, ever-changing environment, a career in early childhood education might be the perfect fit. Early childhood educators help create a fun environment for children to learn and grow in, using creative and engaging activities to teach language, reading, and social skills. Typically found in an academic setting, early childhood educators are most often employed at preschools, after-school programs, day care centers, and summer day-camp programs
If a career in early childhood education sounds interesting but you aren't sure whether it's a good fit for your personality and skillset, check out the following qualities of successful early childhood educators to see if your strengths match:
Strong communication skills. Early childhood educators must be able to communicate with students, parents, and other teachers with clarity and patience.
Social. Because you will be around other people for the majority of each day, you should enjoy spending time and working with others!
Creative. Effectively teaching young children may require you to think outside the box to get a lesson across.
Compassionate. Since parents are trusting you with their children, the health and well-being of others should always come first.
For those interested in a career working with children, earning your Early Childhood Education Associate Degree is a great first step. Check out this monthly webinar if you are interested in pursuing a career in early childhood education or simply want to learn more about the profession.