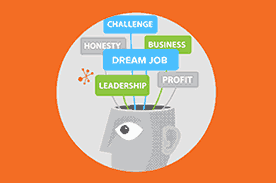 After working to craft the perfect resume and long hours spent stressing over your job interviews, receiving a job offer from a hiring manager may feel like your biggest professional accomplishment yet. However, before accepting the position it is important to get as many details about the job you've been offered as possible. Here are a few items to ask a hiring manager about after you've been offered a position so that you can be sure you are taking the right step in your professional life by accepting their offer:
Compensation. Many potential employees fear that asking about their compensation will hurt their chances of landing the job, but once you've been offered a position it is perfectly normal to know how, and how much, you will be paid. Will you be compensated hourly, yearly with a salary, or primarily through commission? How much will you paid? And how often will you be paid? These are completely reasonable questions that should be saved until you've been made an offer for a job - but once you have, you should never accept any position without a clear understanding of how you will be compensated.
Benefits. While benefits are usually not something you can negotiate with hiring managers, it is important to know what benefits - including insurance and retirement options - are standard within the company that wants to hire you. The person reaching out to you might not always be a human resources person or expert on employee benefits packages, so rather than directly asking about your benefits package, simply ask who the best person to speak with about benefits would is and get their contact information.
Moving/travel expenses. If the job you have been offered requires you to relocate, find out whether the company will help you cover the cost of moving. Similarly, if the position requires you to travel on a regular basis, find out the company's policy on reimbursement for gas mileage. Again, these items may not be negotiable, but you should have a clear understanding of the financial impact of getting to work before accepting the position.
Start date. If you are currently employed elsewhere when receiving a job offer from a different company, make sure that you are on the same page when it comes to the start date of your new job. Hiring managers may want you to start immediately, but you it is important to respect your current company's policy when it comes to giving notice.
Education opportunities. Whether you are a lifelong learner or someone who plans on furthering their education to move up within their career field, ask about your prospective company's continuing education or tuition reimbursement plan. Even if the thought of going back to school hasn't crossed your mind, you may decide to further your education in the future - and when that time comes, you will want to know how your company can support your efforts.
Getting it all in writing. Once you are satisfied with the terms of your employment, be sure to get those terms in writing. Any negotiations or changes to your initial offer should be reflected within the statement drafted by the company so you know exactly what you to expect when you start your first day of your new job.
Receiving a job offer is always a great way to cap off the hard work you've put into preparing for your career, but before you accept, be sure understand exactly what your potential future employers plan on offering you. If you find that the company's offerings are different from what you initially expected, you will be glad that you asked questions before accepting their offer. Once you are satisfied with the terms of your employment, you can start your new job rest assured that you have made the right decision!