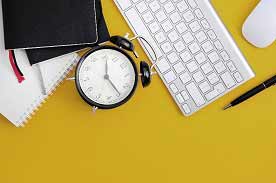 Pursuing a career as a pharmacy technician can be both demanding and rewarding. Pharm tech courses require focus, diligence, and most importantly, strong time management skills. Here are a few strategies to help you stay on top of your coursework and streamline your path to becoming a skilled pharmacy technician.
Avoid procrastinating. It's normal for people to put off a daunting or time-consuming task. But the longer you wait, the more intimidating the task becomes. Keep track of all of your upcoming assignments and exams, and carve out at least two to three hours each day to keep pace with the course. Once you make studying a habit, you'll find it much easier to cross the finish line.
Take care of yourself. Overworking yourself does more harm than good. If you've been studying for a while and feel exhausted, tired, or unable to focus, stop and take a break. Eat a nutritious snack, take a walk, or fit in some exercise. Schedule time to relax and unwind, and get plenty of rest.
Keep stress in check. Pharmacy technician school and stress often go hand in hand. While some stress can improve focus and performance, excess stress can do the opposite. Follow a proper diet, exercise, and sleep regimen, and pursue hobbies, activities, and social events. A quick session of deep breathing, yoga, or listening to music can help you loosen up and stay motivated.
Take excellent notes. Taking detailed, organized notes throughout your lessons helps you retain the information and may shorten the time you need to study outside of class. While note taking, write down your thoughts next to important points, look for common themes, and jot down questions you'd like to ask.
Ask questions. Don't be afraid to contact your instructor with your questions. It can save you time trying to make sense of confusing topics on your own. Our Pharmacy Technician Student Community is also a great place to get further clarification from faculty and other students on your pharm tech-related questions.
Remove distractions. Set aside a clean, quiet space to study. Turn off your phone, close all irrelevant programs and windows on your computer, and focus on the task at hand. Listening to classical or instrumental music can help filter out outside noise and keep you "in the zone."
With enough planning and dedication, you can get on the path toward a career as a pharmacy technician. Contact Penn Foster today to learn more about our Pharmacy Tech Career Diploma.